News and stories from Powersports racing in the United States.
---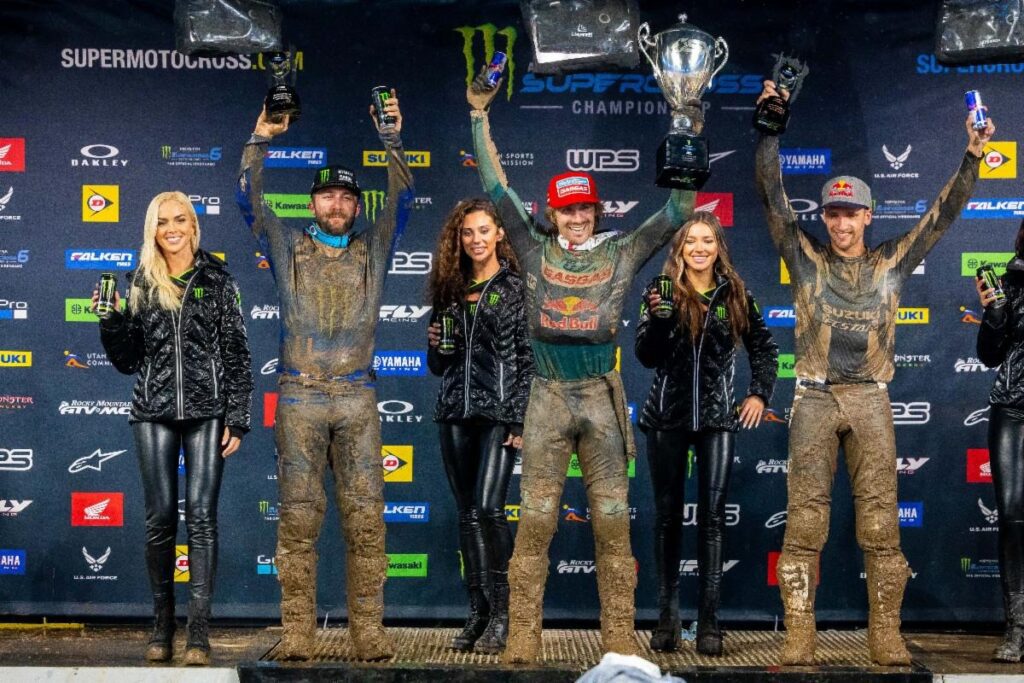 Justin Barcia Masterful in the Mud of the East Rutherford Supercross
Troy Lee Designs Red Bull GASGAS Factory Racing's Justin Barcia captured lightning in a bottle and took the win at Round 14 of the 2023 Monster Energy AMA Supercross season in front of die-hard fans who braved rain and a thunderstorm delay.
Fireworks and dry ground gave way to thunderclouds and thick mud at a thrilling mudder inside MetLife Stadium. Photo Credit: Feld Motor Sports, Inc.
Monster Energy Yamaha Star Racing's Eli Tomac finished second on the rain-drenched and deep-rutted track inside MetLife Stadium. Progressive Insurance ECSTAR Suzuki's Ken Roczen found enough track through the standing puddles to take home third place in East Rutherford, New Jersey. The riders earned points for both the Supercross season and also the inaugural SuperMotocross World Championship. In the season's first of two East/West Showdowns, Fire Power Honda's Max Anstie took his career-first win over the top racers from both regional divisions.
Justin Barcia was brilliant in the mud and earned his first win of the 2023 season. Photo Credit: Feld Motor Sports, Inc.
In an unprecedented weather delay, thunderclouds approaching MetLife Stadium required the racers on the starting line of the 250SX Class East/West Showdown to evacuate the starting area. The riders, along with every spectator in the stadium, retreated to cover for what turned out to be a 1.5 hour delay to the racing as the clouds dumped rain on the track.
When the gate finally dropped for the 450SX Class Main Event, Monster Energy Kawasaki's Jason Anderson officially took the holeshot but it was Team Honda HRC's Chase Sexton who immediately established himself as the race leader. The deep mud and chaotic first lap shuffle saw Barcia jump into the lead for a moment before Ken Roczen took it over. Barcia dropped back to third, but before the first pass through the whoops Barcia cut under Sexton. The two bikes made light contact and Sexton went down as half the pack raced past him.
Roczen stretched out his lead; just two and a half minutes into the race he held a three second gap over Barcia in the abbreviated 17-minute plus one lap race. Points leader Eli Tomac quickly established himself in third place ahead of Yamaha Truck Central LLC's Benny Bloss, Fire Power Honda's Dean Wilson, and Next Level Racing KTM's Kevin Moranz. Red Bull KTM's Cooper Webb was fighting his way up from seventh place and Sexton had recovered from his tip over and ran eighth.
Less than four minutes in, the top three, Roczen, Barcia, and Tomac, had separated from the field while Sexton and Webb scrapped for fifth. Sexton quickly moved past Webb and set his sights on Bloss in fourth place.
Barcia's wide-open riding style agreed with the brutal conditions, and six minutes into the race he was on Roczen. Barcia made the identical move on Roczen that he used on Sexton, but when Barcia took over the top spot Roczen stayed upright. From there Barcia pulled steadily away while Tomac inched closer to Roczen. Sexton was into fourth, but 23 seconds back from Tomac, with Webb in fifth 24 seconds back from Sexton.
The race action was with Tomac. The Yamaha rider got to Roczen's rear fender with just over three minutes left on the race clock. After an exciting battle, Roczen tipped over in the whoops and Tomac took over the spot. Roczen was quickly back up without being in danger of losing the podium-place position.
From there the riders individually fought the track and did their best to preserve their motorcycles in the mud. Barcia took the win, his first since Houston 2021. Tomac earned second place, and stretched his points lead to 11 over Cooper Webb. Roczen carded his fourth podium finish of the season with a third.
Max Anstie brought back his early-season speed and turned it into an exciting East/West Showdown win inside MetLife Stadium. Photo Credit: Feld Motor Sports, Inc.
The East/West Showdown was a thrilling race that was worth the wait of the weather delay. Max Anstie grabbed the holeshot on the rain-drenched track. Red Bull KTM's Max Vohland was in second with Rockstar Energy Husqvarna Factory Racing's RJ Hampshire right behind. The Lawrence brothers were up front and after one muddy lap Team Honda HRC's Jett Lawrence ran in fourth and Team Honda HRC's Hunter Lawrence held fifth. The race made history as the first showdown of brothers who each led their division, but those brothers sat outside the top three at the start of the race.
Almost three minutes into the race, which was shortened to 12-minutes plus one lap, Jett Lawrence took advantage of a Hampshire mistake and took over third place. Three minutes later Jett Lawrence was pressuring Vohland for second as Anstie stretched out his lead to over six seconds. Hampshire applied pressure to take over third, but Jett Lawrence broke free from him again and got around Vohland for second place. Four and a half minutes remained on the race clock.
Hampshire was quickly around Vohland and chasing after Jett Lawrence. Hunter Lawrence soon pressured Vohland for the spot as Monster Energy Yamaha Star Racing's Haiden Deegan closed on them both. With just over two minutes left, Anstie held a nine second lead while Deegan crashed trying to cut under Hunter Lawrence.
In the closing minutes Jett Lawrence put in an amazing drive. He erased Anstie's lead down to .9 seconds as they headed out on the final lap. Jett lost touch tossing his goggles but with a final surge pulled alongside Anstie in their last pass through the whoops. Anstie had the inside line in the next corner and accelerated back into the lead heading into the final corner.
Hampshire was still close to Jett Lawrence and charged hard to that last corner. Hampshire tried to scrub speed and duck underneath but slid out in a dramatic splash. The crash tripped Jett and his bike over onto Hampshire's bike. Jett was quick to pull his bike free and accelerate away just as his brother entered the corner.
At the end Anstie took his first-ever Supercross win, Jett Lawrence got going in time to hold onto second place, and Hunter Lawrence crossed just behind his brother in third.
Round 15 delivers a rare day-race inside Nissan Stadium in Nashville, Tenn. on Saturday, April 29. The race will pay points to both the 17-round Monster Energy AMA Supercross season as well as the all-new 31-round SuperMotocross World Championship. Every race is streamed live on Peacock, with NBC, USA Network, and CNBC broadcasting select rounds.
Tickets are on sale for the final three Supercross rounds, scheduled for the next three weekends and culminating inside Rice-Eccles Stadium in Salt Lake City, Utah on May 13. For ticket sales, the full schedule, race results, video highlights, and more please visit SupercrossLIVE.com.
450SX Class podium (racers left to right) Eli Tomac, Justin Barcia, and Ken Roczen. Photo Credit: Feld Motor Sports, Inc.
450SX Class Results
Justin Barcia, Greenville, Fla., GASGAS
Eli Tomac, Cortez, Colo., Yamaha
Ken Roczen, Clermont, Fla., Suzuki
Chase Sexton, Clermont, Fla., Honda
Cooper Webb, Newport, N.C., KTM
Shane McElrath, Oakland, Fla., Suzuki
Kevin Moranz, Topeka, Kans., KTM
Benny Bloss, Oak Grove, Mo., Yamaha
Justin Hill, Yoncalla, Ore., KTM
Dean Wilson, Menifee, Calif., Honda
450SX Class Championship Standings
Eli Tomac, Cortez, Colo., Yamaha (315)
Cooper Webb, Newport, N.C., KTM (304)
Chase Sexton, Clermont, Fla., Honda (294)
Justin Barcia, Greenville, Fla., GASGAS (265)
Ken Roczen, Clermont, Fla., Suzuki (259)
Jason Anderson, Rio Rancho, N.Mex., Kawasaki (225)
Aaron Plessinger, Hamilton, Ohio, KTM (213)
Adam Cianciarulo, New Smyrna Beach, Fla., Kawasaki (155)
Justin Hill, Yoncalla, Ore., KTM (154)
Christian Craig, Clermont, Fla., Husqvarna (150)
250SX Class podium (racers left to right) Jett Lawrence, Max Anstie, and Hunter Lawrence. Photo Credit: Feld Motor Sports, Inc.
East/West Showdown Results
Max Anstie, Cairo, Ga., Honda (East)
Jett Lawrence, Zephyrhills, Fla., Honda (West)
Hunter Lawrence, Wesley Chapel, Fla., Honda (East)
Max Vohland, Granite Bay, Calif., KTM (West)
Enzo Lopes, Chesterfield, S.C., Yamaha (West)
Haiden Deegan, Tallahassee, Fla., Yamaha (East)
Carson Mumford, Simi Valley, Calif., Kawasaki (West)
Cullin Park, Clermont, Fla., Honda (East)
Jo Shimoda, Menifee, Calif., Kawasaki (East)
Chris Blose, Phoenix, Ariz., Kawasaki (East)
Eastern Regional 250SX Class Championship Standings
Hunter Lawrence, Wesley Chapel, Fla., Honda (198)
Haiden Deegan, Tallahassee, Fla., Yamaha (149)
Max Anstie, Cairo, Ga., Honda (148)
Nate Thrasher, Livingston, Tenn., Yamaha (120)
Jordon Smith, Ochlocknee, Ga., Yamaha (120)
Chris Blose, Phoenix, Ariz., Kawasaki (117)
Jeremy Martin, Rochester, Minn., Yamaha (111)
Cullin Park, Clermont, Fla., Honda (96)
Tom Vialle, Murrieta, Calif., KTM (95)
Coty Schock, Dover, Del., Honda (83)
Western Regional 250SX Class Championship Standings
Jett Lawrence, Zephyrhills, Fla., Honda (176)
RJ Hampshire, Minneola, Fla., Husqvarna (137)
Enzo Lopes, Chesterfield, S.C., Yamaha (118)
Levi Kitchen, Havana, Fla., Yamaha (112)
Max Vohland, Granite Bay, Calif., KTM (104)
Cameron McAdoo, Sioux City, Iowa, Kawasaki (101)
Mitchell Oldenburg, Godley, Tex., Honda (99)
Pierce Brown, Sandy, Utah, GASGAS (98)
Cole Thompson, Brigden, Ont., Yamaha (73)
Derek Kelley, Riverside, Calif., KTM (70)
---
Monster Energy Signs on as Presenting Sponsor of SuperMotocross World Championships Finals and Extends Title Partnership with Supercross
Monster Energy, the official energy drink of Supercross and Pro Motocross, and title sponsor of Monster Energy Supercross, has expanded its relationship with the premier off-road racing series to include the SuperMotocross World Championship Finals through 2025. The inaugural year of the SuperMotocross World Championship will feature playoff events in Concord, NC on September 9th and Joliet, IL on September 16th. The World Championship Final will follow on Saturday, September 23, at the Los Angeles Memorial Coliseum, long credited as the birthplace of Supercross. This new form of racing is defined by what will become the world's most challenging tracks, designed to test athletes both physically and mentally. Monster Energy will have a presence as the official energy drink throughout the final three rounds and the new finals logo will include the Monster Energy Claw and be titled SuperMotocross World Championship Finals Fueled by Monster Energy. The long-term partnership with Supercross began in 2007 and has had significant success and growth across the 17-round season in premier sporting venues around the country. The new relationship keeps Monster Energy as the title sponsor of Supercross through the 2025 season. "We are excited to continue our relationship with Monster Energy at Supercross and welcome them as partners on the SuperMotocross World Championship Finals," said Dave Muye, Vice President of Global Partnerships at Feld Entertainment.  "As we continue to evolve and elevate the sport, it is important to have engaged, long-term, and supportive partners like Monster Energy that can share in its overall vision and growth. As we collectively usher in the next chapter of our sport, we are looking enthusiastically toward the future and what is in store for our industry, athletes, teams, and fans." "Monster Energy Supercross and the AMA Pro Motocross Championship are of terrific importance to Monster Energy," said Dave Gowland, Vice President, Motorsports Marketing, Monster Energy.  "Since our partnership began in 2007 and Monster Energy became the official energy drink and title sponsor, we have collectively been promoting and growing the sport all over the world. With that, we are very enthused that Monster Energy will continue as the title sponsor of Supercross through 2025 and will also be part of the newly-created SuperMotocross World Championship. We are thrilled to be a part of it as we watch racers test their skills, conditioning, bravery, and take the sport to an entirely new level. Drop the gate and Unleash the Beast!" Going forward, Monster Energy will continue to have a significant presence on track and within all facets of the events, including the broadcast on the NBC family of networks and streaming on Peacock.  Monster Energy will also maintain its robust at retail program in each city, including various consumer offers.  In most markets, fans can purchase a can of their favorite Monster Energy product at a participating retailer and recycle it at the event to gain access to FanFest, which opens six hours prior to the races. At both Supercross and the SuperMotocross World Championship Finals, Monster Energy will continue to have exciting consumer engagements, including Freestyle Motocross exhibitions, BMX big air competitions, Skateboarding, MMA events, and opportunities for fans to sample the newest products in the lineup.  Monster Energy's impressive roster of athletes across a multitude of sports, many who are huge fans of Supercross, Pro Motocross and now the SuperMotocross World Championship, will continue supporting various racing events throughout the year.
---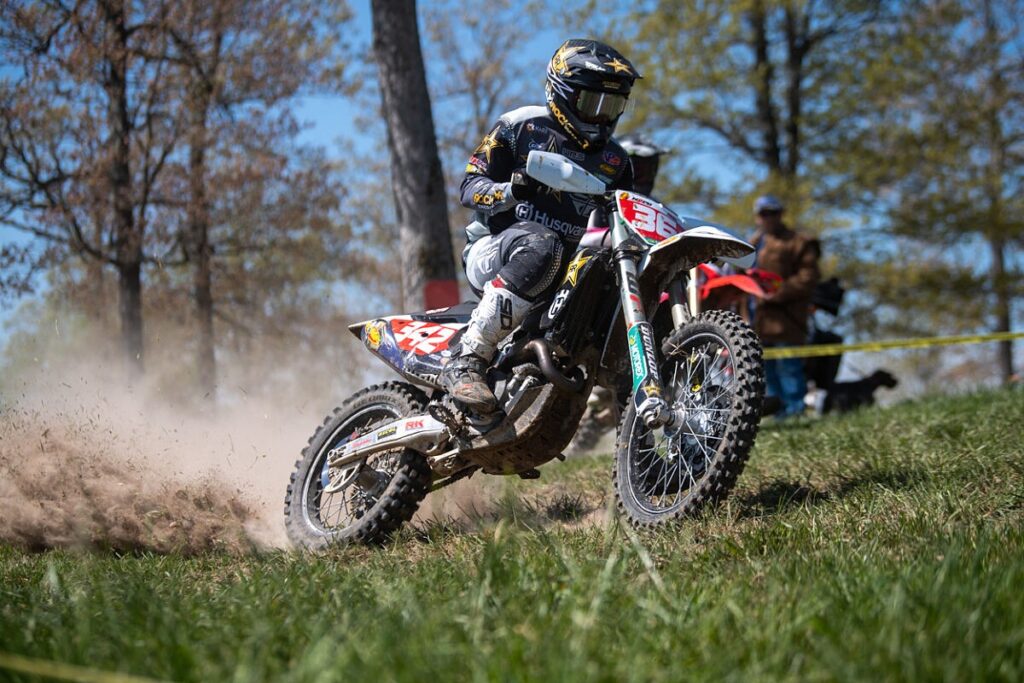 TOP FIVE FINISH FOR ROCKSTAR ENERGY HUSQVARNA RIDER CRAIG DELONG AT BLACK BUFFALO NATIONAL ENDURO
A hard crash in the fifth test proved to be costly for Rockstar Energy Husqvarna Factory Racing rider Craig DeLong, although the Pennsylvania rider rebounded for a solid fifth-place finish at this weekend's Black Buffalo National Enduro, held on the beautiful, but rocky terrain of the Buffalo Ranch.
DeLong came into the race with a sore tailbone, and the rocky terrain didn't help the matter.
"It was an okay day; I tried to stay off the ground but I didn't quite do that,"commented DeLong. "This was a new venue, so it was new to me and it turned out to be rockier than I expected."
DeLong came into the race with a few aches and pains.
"Everybody has those, so you just have to put up with it and ride it out,"added DeLong. "I think I was fourth most of the day, but I had a crash in the fifth test and bent my bars. That kind of sealed my fate."
Next Round (4): Arrington, VA – May 14, 2023
Black Buffalo National Enduro – Results
NE Pro1 Class
1. Grant Baylor (KAW)
2. Ryder Lafferty (GAS)
3. Ricky Russell (YAM)
…
5. Craig DeLong – Rockstar Energy Husqvarna Factory Racing
---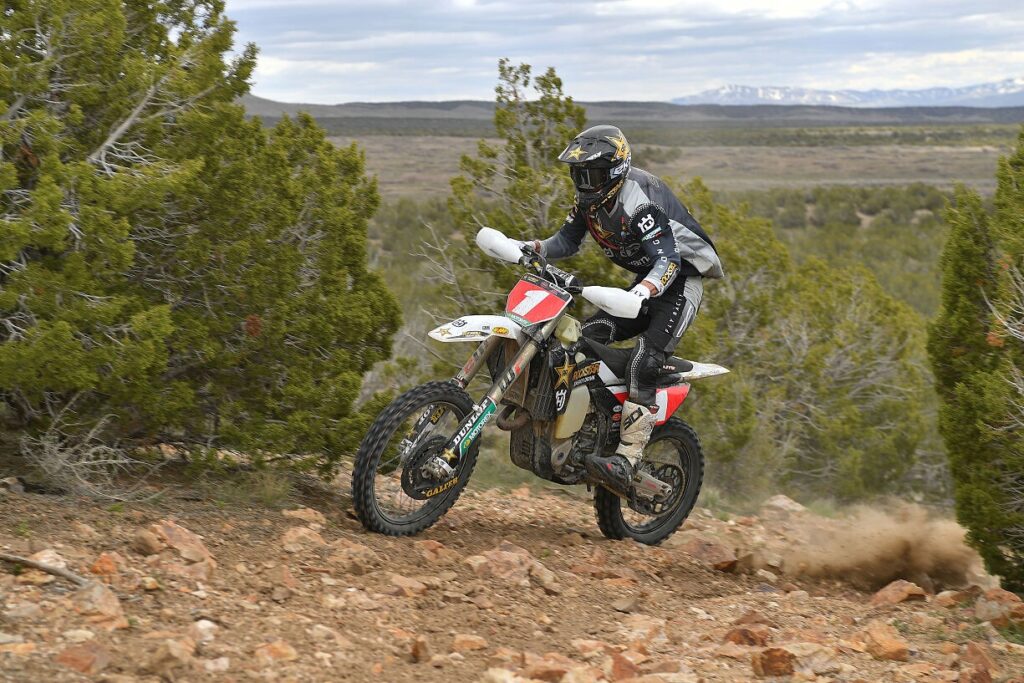 ROCKSTAR ENERGY HUSQVARNA'S DALTON SHIREY CONTINUES HARE & HOUND DOMINANCE WITH JERICHO VICTORY
Rockstar Energy Husqvarna Factory Racing rider Dalton Shirey has continued his run of dominance at Round 3 of the 2023 AMA National Hare & Hound Championship, with the defending champion taking a third-straight victory in Jericho, Utah, on Saturday.
Shirey started the event off strong equipped with his FX 450, ending the hour-long opening lap in second position. From there the Californian began his charge, battling opening lap leader Tyler Lynn throughout the day, before taking control late and opening a 19-second victory margin by the checkered flag.
The overall win in Round 3 adds to Shirey's perfect start to the season, as he is yet to drop a round in this year's AMA National Hare & Hound Championship. He now holds a 37-point advantage in the Pro Class championship standings.
"Today was a great success, it was a good day," Shirey said. "Tyler got the holeshot, so I pulled in behind him and followed him through the dunes, which was good, as I was able to watch him and gauge my pace off of him. I capitalized on a mistake he made, took the lead, then he got me back on the opening lap. I regrouped, got back into his dust, then with six miles to go he made another mistake, which I took advantage of, and pinned it from there on to the finish. Overall, I'm stoked on the day!"
Husqvarna Motorcycles-mounted Britney Gallegos landed second position in the Pro Women's Class and sits second in the Pro Women's Championship standings.
Round 4: May 13 – Jericho, Utah
Pro Class Results – Round 3
1. Dalton Shirey – Rockstar Energy Husqvarna Factory Racing
2. Tyler Lynn (KAW)
3. Zane Roberts (BET)
Pro Class Championship Standings
1. Dalton Shirey, 90 points
2. Carter Klein, 53
3. Joseph Wasson, 50
---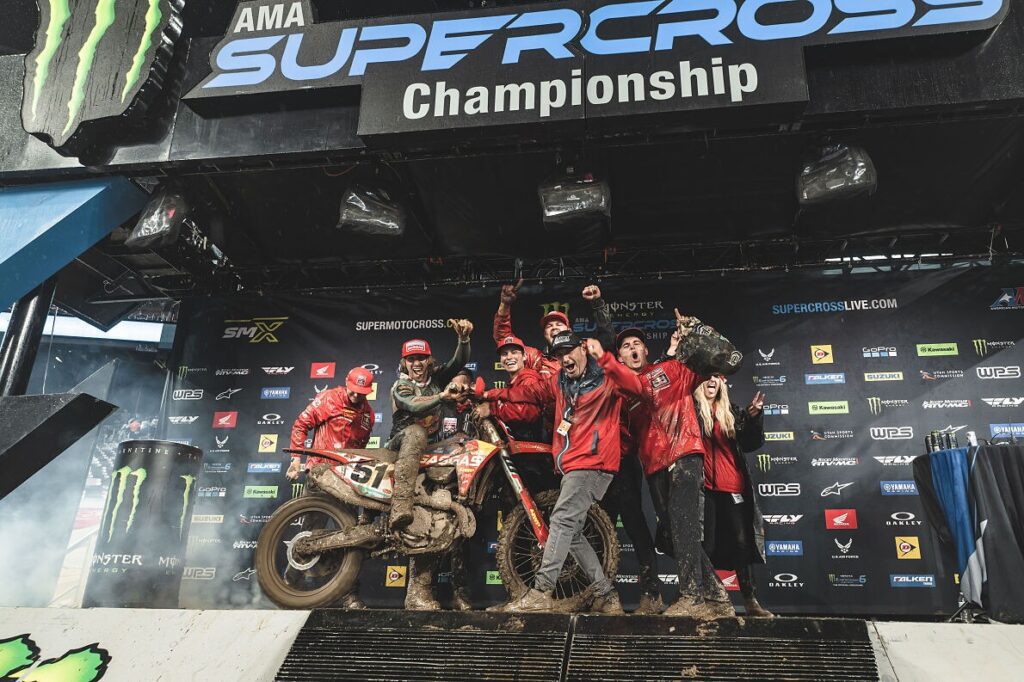 BARCIA MASTERS THE MUD IN EAST RUTHERFORD SUPERCROSS
The Troy Lee Designs/Red Bull/GASGAS Factory Racing Team had to wait out a lightning delay and deal with a downpour, but the results were worth it as Justin Barcia took the 450 main event win in extremely muddy conditions.
Troy Lee Designs/Red Bull/GASGAS Factory Racing Team records its first main event win of the 2023 AMA Supercross season
Justin Barcia was fast in his home race, whether in wet or dry conditions
Pierce Brown finished 11th in the 250 East/West Shootout
450SX
Judging by the third place and second-place finishes at the previous rounds in Glendale and Atlanta, Justin and the team had high hopes heading into East Rutherford, NJ, located just outside New York City. Thunderstorms caused a delay for the scheduled start of the main events, and a steady downpour made a quagmire of the track. But after getting a strong start out of the gate, and sizing up the leader for the first six laps, Justin Barcia and his MC 450F Factory Edition took over the lead and stretched it to a 14-second advantage at the finish.
Justin Barcia:"I don't remember practice. I don't remember the heat race. But I remember that main event! I got out there and was battling with the boys, took the lead, rode away, and took the win. It was very special. The team crushed it, mud-prepped quick, and it was an awesome race. I don't really know what else to say because I'm very happy!"
250SX East/West For Pierce Brown and his MC 250F Factory Edition, the night was a bit more challenging. After qualifying fifth, and finishing fourth in his 250 West heat race in the dry conditions, things were looking good. Unfortunately, a midpack start, followed by a crash, resulted in an 11th-place finish.
Pierce Brown: "It wasn't an ideal night in New York. I did all right in the heat, with a fourth-place finish. We had a couple of hour delay before the main event. It rained hard, so the track was pretty wet when we got out there. I got off to an okay start…midpack. I was trying to go through the pack and collided with a rider about three or four laps into the race and fell. That set me back pretty far. I think I got up in last or second-to-last. After that I put a charge on and did all I could do and ended up 11th."
Next Event (Round 15): April 29, 2023 – Nissan Stadium in Nashville, Tenn.
Results – 2023 AMA Supercross Championship, Round 14
250SX East/West Shootout – Main Event Results
1. Max Anstie (Honda) 14 laps; 2. Jett Lawrence (Honda) +10.091; 3. Hunter Lawrence (Honda) +10.824… 11. Pierce Brown (GASGAS)
450SX – Main Event Results
1. Justin Barcia (GASGAS) 18 laps; 2. Eli Tomac (Yamaha) +14.742; 3. Ken Roczen (Suzuki) +25.396… 14. Justin Starling (GASGAS); 20. Tristan Lane (GASGAS)
Championship Standings – After 14 Rounds
250SX East
1. Hunter Lawrence (Honda) 198 points; 2. Haiden Deegan (Yamaha) 149 points;  3. Max Anstie (Honda) 148 points … 16. Michael Mosiman (GASGAS) 51
250SX West
1. Jett Lawrence (Honda) 176 points; 2. RJ Hampshire (Husqvarna) 137 points;  3. Enzo Lopes (Yamaha) 118 points … 8. Pierce Brown (GASGAS) 98
450SX
1. Eli Tomac (Yamaha) 315 points; 2. Cooper Webb 304; 3. Chase Sexton (Honda) 294 … 4. Justin Barcia (GASGAS) 265; 23. Justin Starling (GASGAS) 54; 32. Tristan Lane (GASGAS)
---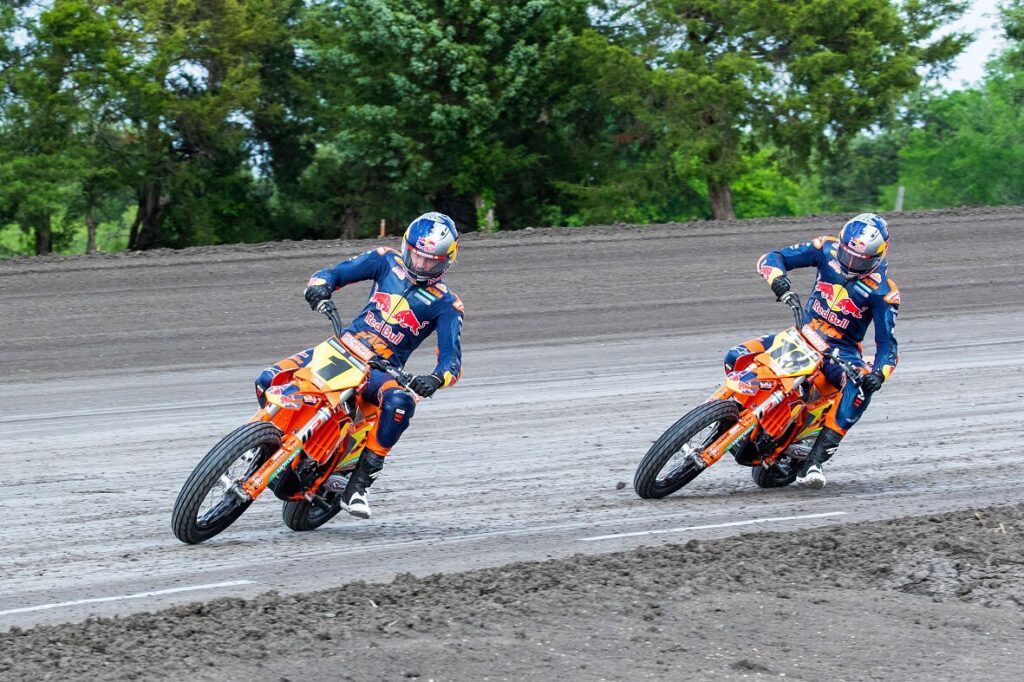 KODY KOPP AND MAX WHALE TAKE TOP FIVE FINISHES FOR RED BULL KTM IN DALLAS HALF-MILE
Red Bull KTM Factory Racing duo Kody Kopp and Max Whale each claimed top five results in AFT Singles during the fifth round of the 2023 American Flat Track Championship, with the Dallas Half-Mile featuring at Devil's Bowl Speedway in Texas.
Following a difficult qualifying session, defending champion Kopp regrouped in the opening Heat race of the night, securing a direct transfer to the Main Event after a third-place finish. From there, it was a determined ride from Kopp onboard his KTM 450 SX-F to a fourth-place result in the fast-paced Main Event, maintaining his AFT Singles points-lead five rounds into the season.
Kody Kopp: "We ended up P4 on the night and I was super happy with my riding. We started the Main Event as far back as 10th on the lap charts, just had to dig because it was totally different riding and the line was up really high in the Main Event. I just had to go to work, fought my way through the pack to make seven passes all the way up to fourth place, and had some great battles! I really closed in on the leaders over the last few laps, was within about two-tenths of a podium position, so that was huge progress. Hats off to my whole team, we're really looking forward to these next rounds now."
Red Bull KTM teammate Whale began the day inside the top five at the conclusion of qualifying, continuing his early season form. A fifth-place ride in the opening Heat of the night set him up well for the Main Event, where he would also charge through the pack on his way to a fifth-place result, retaining third in the standings as the series next heads to Ventura, California.
Max Whale: "Dallas started out pretty good, qualifying fifth, and then I sort of struggled a little bit in the Heat, but was able to finish fifth again. I fought really hard in the Main Event, was outside of the top 10 on the first lap, and came through to fifth. To bring it home fifth was a really good night, for what could have happened being so far back early on. We salvaged a strong points finish, the team worked really hard all day, and I'm looking forward to the next one."
Next Race: Ventura Short Track – Ventura, California – May 6, 2023
Round 5 Results
AFT Singles Main event 1. Trent Lowe, Honda 2. Chase Saathoff, Honda 3. Morgen Mischler, Honda 4. Kody Kopp, Red Bull KTM Factory Racing 5. Max Whale, Red Bull KTM Factory Racing OTHER KTM 7. Dalton Gauthier, KTM 9. Shayna Texter-Bauman, KTM 13. Travis Petton IV, KTM 15. Clarke Morian V, KTM 16. Justin Jones, KTM 17. Logan Eisenhard, KTM
2023 AFT Singles Point Standings 1. Kody Kopp, 102 points 2. Dalton Gauthier, 98 3. Max Whale, 86 OTHER KTM 11. Justin Jones, 40 13. Logan Eisenhard, 25 14. Shayna Texter-Bauman, 22 16. Travis Petton IV, 19 18. Hayden Gillim, 14 22. Hunter Bauer, 11 24. Clarke Morian V, 10 25. Tanner Dean, 9 30. Olin Kissler, 4
---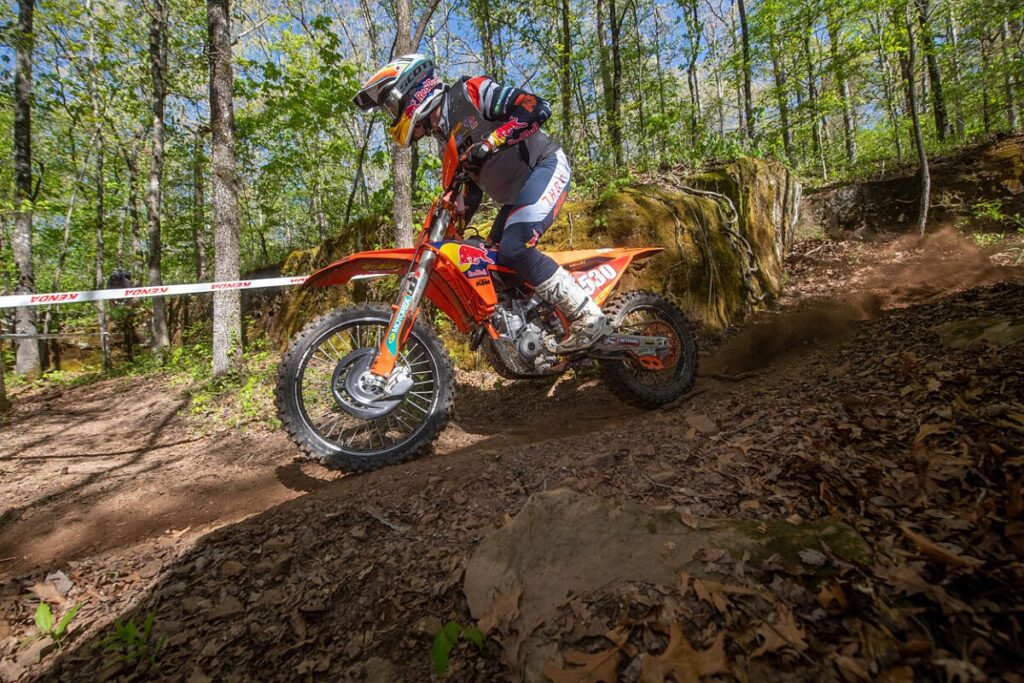 FMF KTM FACTORY RACING'S BEN KELLEY SIXTH AT BLACK BUFFALO ENDURO
Working his way back into enduro racing form after a serious leg injury he sustained at the start of the season, FMF KTM Factory Racing's Ben Kelley slowly improved with each test to claim a determined sixth-place finish at this weekend's Black Buffalo National Enduro in Kingston, Arkansas.
Riding his KTM 350 XC-F, Kelley was finished consistently between sixth and seventh in most of the tests, finishing the race just 15 seconds out of fifth overall.
Ben Kelley: "It was an okay day; I'm just trying to get back into enduro mode and get back up to speed. I just need to get more comfortable reading the trail and sending it. I was just a little bit uncomfortable all day, maybe had too stiff of a setting. We kind of softened it up a little after each test and I felt like I got a little more comfortable with each one."
Round 4: May 14 – Arrington, Virginia
NE Pro1 Results 1. Grant Baylor, KAW, 1:33:28.226 2. Ryder Lafferty, GAS, +25.217 3. Ricky Russell, YAM, +53.20 OTHER KTM 6. Ben Kelley, KTM, +1:15.239 7. Steward Baylor, KTM, +25.509
---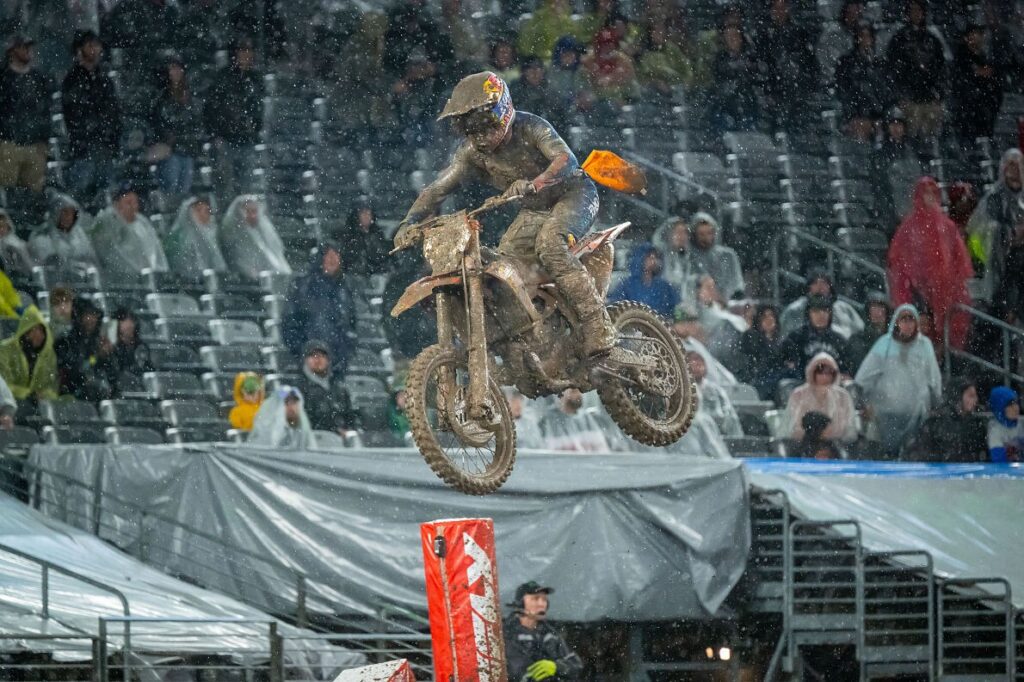 COOPER WEBB AND MAXIMUS VOHLAND DELIVER RED BULL KTM FACTORY RACING EAST RUTHERFORD TOP FIVES
The skies opened and mother nature emerged at round 14 of the 2023 AMA Supercross Championship, making for challenging conditions for the Red Bull KTM Factory Racing team in East Rutherford, where 450SX title challenger Cooper Webb finished in fifth position, while Maximus Vohland claimed fourth and Tom Vialle 14th in the 250SX East/West Showdown.
After qualifying sixth, two-time champion Webb launched out of the gates in the opening 450SX Heat of the night, maintaining a strong pace to secure second position. In the time between the dry Heat race and the Main Event, heavy storms in the region made for a rain-soaked racetrack ahead of the delayed Main Events.
Posting a calculated ride for a strong haul of points, Webb methodically picked his way through the ruts throughout the technical 18-lap affair on his KTM 450 SX-F FACTORY EDITION, landing a fifth-place finish by race's end, and remaining right in the 450SX championship hunt. He's still second overall, 11 points outside of the lead with three races to run.
Cooper Webb: "What a crazy turn of events with the insane weather tonight, making racing conditions extremely tough. Not the way I'd hoped tonight would go as my goal was to close in on the championship and not lose points. We at least made it out in one piece and given the horrible racing conditions, I guess fifth overall wasn't too bad. I need to rebound and throw everything at this championship next week in Nashville."
In the first 250SX East/West Showdown of the season, both Red Bull KTM Factory Racing team contenders were on hand, including Vohland and dual MX2 World Champion, Vialle. Posting strong lap times and Heat race results throughout the day's proceedings, Vohland and Vialle took their KTM 250 SX-F machines to P5 and P14 respectively in the rain-delayed Main Event.
Maximus Vohland: "It was a good day overall for me, third in qualifying and third in my heat race – being the Showdown, the Heat is like a mini Main Event, so to get third there was great. I was thinking we'd get a dry Main Event, and then we had a weather delay where we were waiting for an hour to go out – the track was just getting worse and worse – but yeah, in the position I'm in I had nothing to lose, so I went out there and had fun. I knew I needed a good start, which I got, then was flirting around that podium spot, although the way it turned out I finished in fourth. So I'll take it, made some good points, feel confident in my riding, and am excited for Colorado."
Tom Vialle: "We had to wait quite a while tonight before the start of the Main Event, and then off the start, I spun really bad, which meant I started last. From there it was tough with lots of water on the track making it hard to pass, which put me in 14th place overall. I didn't do much after the start – it was about survival after that – so I'm looking forward to Nashville now."
The other KTM 450 SX-F FACTORY EDITION of Aaron Plessinger experienced a difficult day in New Jersey, with the #7 sitting out the night program following a crash earlier in the day. Plessinger underwent preliminary medical evaluation at the track and will now return home for further analysis.
Next Race: April 29 – Nashville, Tenessee
Results 450SX Class – East Rutherford 1. Justin Barcia (USA), GASGAS, 18 laps 2. Eli Tomac (USA), Yamaha, + 14.742 3. Ken Roczen (GER), Suzuki, +25.396 OTHER KTM 5. Cooper Webb (USA), KTM 7. Kevin Moranz (USA), KTM 9. Justin Hill (USA), KTM 18. Josh Hill (USA), KTM
Standings 450SX Class 2023 after 14 of 17 rounds 1. Eli Tomac, 315 points 2. Cooper Webb, 304 3. Chase Sexton, 294 OTHER KTM 7. Aaron Plessinger, 213 9. Justin Hill, 154 14. Josh Hill, 103 19. Kevin Moranz, 70 29. Marvin Musquin, 11
Results 250SX East/West Showdown – East Rutherford 1. Max Anstie (GBR), Honda, 14 laps 2. Jett Lawrence (AUS), Honda, +10.091 3. Hunter Lawrence (AUS), Honda, +10.824 4. Maximus Vohland (USA), KTM, +11.324 OTHER KTM 14. Tom Vialle, KTM
Standings 250SX East Class 2023 after 8 of 10 rounds 1. Hunter Lawrence, 198 2. Haiden Deegan, 149 3. Max Anstie, 148 OTHER KTM 9. Tom Vialle, 95
Standings 250SX West Class 2023 after 7 of 10 rounds 1. Jett Lawrence, 176 2. RJ Hampshire, 137 3. Enzo Lopes, 118 OTHER KTM 5. Maximus Vohland, 104
---
Monster Energy® Kawasaki Riders Conquer the Conditions at Storm Stricken East Rutherford SX 
---
Double Wins For Fores, Dreher, Beaubier And Wyman At Road Atlanta
There were three first-time winners in MotoAmerica racing on Saturday at Michelin Raceway Road Atlanta. On Sunday, those three became two-time victors as Xavi Fores, Avery Dreher and Ezra Beaubier showed that their first wins definitely weren't flukes.
Also doubling up was Kyle Wyman with the H-D Screamin' Eagle-backed New Yorker winning a second Mission King Of The Baggers race on Sunday to go with his Saturday victory.
Supersport – Fores Times Two
Warhorse HSBK Racing Ducati's Xavi Fores followed up his debut Supersport win on Saturday with another flawless performance on Sunday. The Spaniard started slower than in yesterday's race but finished with a bit more comfort as he topped Tytlers Cycle Racing's Stefano Mesa by 1.4 seconds after 18 laps of Road Atlanta.
Mesa, meanwhile, had worked his way past Squid Hunter's Josh Hayes for second place on the final lap with Hayes ending up third for a second time on the weekend. Vision Wheel M4 ECSTAR Suzuki's Tyler Scott was fourth after finishing second on Saturday.
Michael Gilbert Racing's Michael Gilbert was fifth, matching his effort from race one.
Fores leads the title chase with 50 points, 17 ahead of Mesa and Scott, who are tied for second, and 18 ahead of Hayes.
Mission King Of The Baggers – Wyman Again
H-D Screamin' Eagle's Kyle Wyman rode his Harley-Davidson Road Glide to victory after passing Indian Motorcycle/Progressive/Mission Foods' Tyler O'Hara on the opening lap and sped to his second successive Mission King Of The Baggers victory at Road Atlanta.
O'Hara finished 1.830 seconds behind Wyman with Sac Mile/SDI Racing/Roland Sands/Indian's Bobby Fong third. Vance & Hines Harley-Davidson teamsters Hayden Gillim and James Rispoli finished fourth and fifth, respectively.
With his third straight victory, Wyman now leads the championship point standings with 75 points, eight points clear of Rispoli and 10 points ahead of Gillim. Defending Mission King Of The Baggers Champion O'Hara is 14 points behind in fourth place.
Stock 1000 – Beaubier Is Double Trouble
Ezra Beaubier admitted surprise that he won his first career Stock 1000 race on Saturday. On Sunday, the youngest of the two Beaubier brothers came back to Road Atlanta filled with the confidence of a race winner. And he turned all of that into a second win in a row on his Orange Cat Racing BMW M 1000 RR, this time over Geoff May Racing's Geoff May by six seconds with the 25-year veteran of the sport announcing his retirement from racing this weekend.
Taylor Knapp Racing's Taylor Knapp put his BMW on the podium with an impressive ride to third, 6.2 seconds behind Beaubier and two seconds ahead of fifth-placed Kaleb De Keyrel. De Keyrel was running second and right behind his Orange Cat Racing teammate Beaubier when he got into turn 12 too hot on the final lap and ran straight, losing three places to May, Knapp and fourth-placed Travis Wyman.
Beaubier's perfect 50 points puts him 14 points ahead of May and 17 clear of Travis Wyman.
REV'IT! Twins Cup – Landers Rebounds
Rodio Racing – Powered By Robem Engineering's Rocco Landers suffered an engine failure while leading Saturday's REV'IT Twins Cup race. On Sunday, he came out with guns blazing and completely dominated the race, beating his teammate Gus Rodio by 4.166 seconds. Third place, for the second straight day, went to Cycle Tech's Hayden Schultz, who was 8.31 seconds behind championship leader Rodio at the end of the 12-lap race.
Defending class champion and Saturday's race winner Blake Davis crashed early in the race but was able to remount his N2 Racing/BobbleHeadMoto Yamaha YZF-R7 to finish 11th.
After four races, Rodio leads the title chase with 85 points – 26 more than Schultz and 29 ahead of Davis.
Junior Cup – Dreher X Two
Turns out that Avery Dreher liked winning so much he decided to do it again with the Bad Boys Racing rider earning his second straight Junior Cup win on Sunday with a .949-second victory over Max Van, who was second for the second straight day.
Bicknese Racing's Hayden Bicknese was third for the second day in a row, just 1.080 seconds from victory.
With his two wins, Dreher leads Van by 10 points heading to Barber in a month's time.
Quotes…
Ezra Beaubier – Stock 1000 Winner
"Well, I hope it becomes a habit. Honestly I woke up today just with a completely different feeling. I finally had the confidence. I can do this now. I can run with these guys. I just felt really good. We found some stuff with the bike last night and it was really positive. In warmup, I basically matched my fastest lap of the race yesterday in warmup. I wasn't really pushing super hard, so I felt super good going into the race, super confident. I felt like I could rip off a bunch of the 1:26s in the race, and I was able to execute that. In the beginning, I tried to pull out and see if I could get a gap, and I really wasn't able to, so I just kind of backed it down and sat there. Then towards the end of the race, tried to pick it back up again. I saw on my pit board that Kaleb was right there on me. On the last lap on the back straight, I felt him in my draft and started almost panicking a little bit. I tried to run a defensive line. Then he ended up running off in the last turn, which is a huge bummer not to go one and two as the Orange Cat BMW's. But it was a great race and a great weekend for me. I hope to have many more of these."
Avery Dreher – Junior Cup Winner
Honestly, I went into the race with the same mindset, the same strategy as yesterday. I tried to fall in line at the beginning of the race, but they caught us towards the middle, so it was the same pack as yesterday. I'm glad we were going a lot faster than yesterday. Towards the end of the race, I felt like I had some pace to break away, so I made the move into 10A. I looked back once or twice. Saw that I had a gap and just put my head down. Happy with the result. Good job to Max and Hayden. Looking forward to Barber."
Rocco Landers – REV'IT! Twins Cup Winner
"Yesterday, I knew I was kind of screwed on lap one. I felt the thing starting to lose power off the start and then again on turn seven, but those days happen. It's infuriating sometimes, but you got to bounce back. You have a good day after this. It kind of polishes it off and makes everything feel a whole lot better. But you lose 25 points and end up having a DNF. It's not the end of the world, but it's a bummer, and a day like today actually makes that feel a whole lot better. I didn't even know I was racing until I think last weekend. I was literally hanging insulation and my dad comes in and goes, 'Hey, Matt called and he wants to know if you want to fill in for Ben Gloddy for the week.' I was like, 'Definitely!' I didn't know if I was going to be racing. It's an incredible opportunity. I feel very grateful towards Matt for giving me that opportunity. My mechanic Chad worked super hard along with Matt all weekend to give me the best bike they could. We've made very positive changes every time I've got on the bike. Every time I've ridden it, it's felt better and better and better. My dad actually flew in Friday afternoon, and I didn't know he was going to be there, so that helped out and made it a whole lot more fun. Days like this are what you always want, so let's hope we can have some more of these, depending on how long I'm filling in here."
Xavi Fores – Supersport Winner
"Today was slightly worse on my start. I did a mistake releasing the clutch and I couldn't get any positions. I was fourth at the end of the first part of the circuit. Then on the back straight, I felt strong on the brake like yesterday, so I couldn't pass Josh (Hayes) and stay fighting for the podium at the beginning. It was not that easy to pass Stefano (Mesa) and Tyler (Scott), especially on the back straight, because Stefano is quite fast on the straight. He is quite aerodynamic. I was trying to stay there, there, there. He did a small mistake shifting on the exit of turn seven, so I got a chance to pass him on the braking. Then I was so focused to pass Tyler because he was riding fast, but he was a little bit like aggressive all the time. I said, okay, if I pass him, I can push hard and I can make him go to the limit. So, that was my target for today. I don't know why, from one lap to the other I got some gap to the second one. I don't know if we got a slow rider, and I got that benefit. But, after that, I start to keep my pace all the time. I didn't do any mistakes. It was a nice victory. It wasn't easy because I was pushing really, really hard. Today was much faster than yesterday – 29 low all the time. We did a couple of 28s, maybe. Credit to the guys fighting for the podium with me because we set a fast pace all the weekend, and especially today on the second race. It's nice to fight with them. It's nice to have a group of four or five riders fighting for the podium, because everyone can learn from each other. This is the important. This gives spectacle to the class, gives some show to the class. This is something that we need for the crowd. So, thank you so much to all the team. They did an amazing work. Ducati, HSBK Warhorse, and especially thanks to Paolo Ciabatti, who sent me a guy from Ducati for this weekend in order to set up my bike. Especially after Daytona I didn't feel so much comfortable on the bike. So, we changed completely the bike from there and I felt straightaway quite fast. Now time to go back home and see my baby and my family."
Kyle Wyman – Mission King Of The Baggers Winner
"That's how you want to do it, aside from the challenge was a little bit of a throwaway, but we won every session and won both races. That's kind of how you want to do it. I kind of wheelied on the start and had to roll out of it. Didn't quite get the launch I wanted. Went to the brakes a little bit sheepishly, I would say, for turn one and Tyler got the wheel underneath me. I haven't ridden behind Tyler in what feels like a long time. I don't think at all this year and maybe even towards the end of last year not so much. So, just to see that thing. There were a couple places where I felt like our strength in that first sector really showed. Even on the warmup lap, I felt like if I wanted to get a run over turn five, I needed to give myself a little bit of space actually because we've got pretty tall gearing through there. So, I kind of gave myself a little bit of space. Gave myself an opportunity to see where the strengths and weaknesses were between the two of us. I had a pretty good run on the back straightaway. He touched the rev limiter in one of his gears and kind of got me a little bit of a run down the back straight, it seemed like. I hit my shifts pretty good, but he might have missed one and it got me alongside of him going through nine. We were kind of side-by-side going through ten. We were both fighting for the position a little bit. He ended up taking the extra bite that put him off the track but kept it on two wheels and ended up second. But from there, I had about a second gap and then built it up to two, or 2.6. Then just kind of managed the pace from there. Went a little bit quicker today than yesterday, as did everybody I think went quicker today. I had a side quess of a 29 and didn't quite get it this weekend, but it's no big deal if we got the W."
---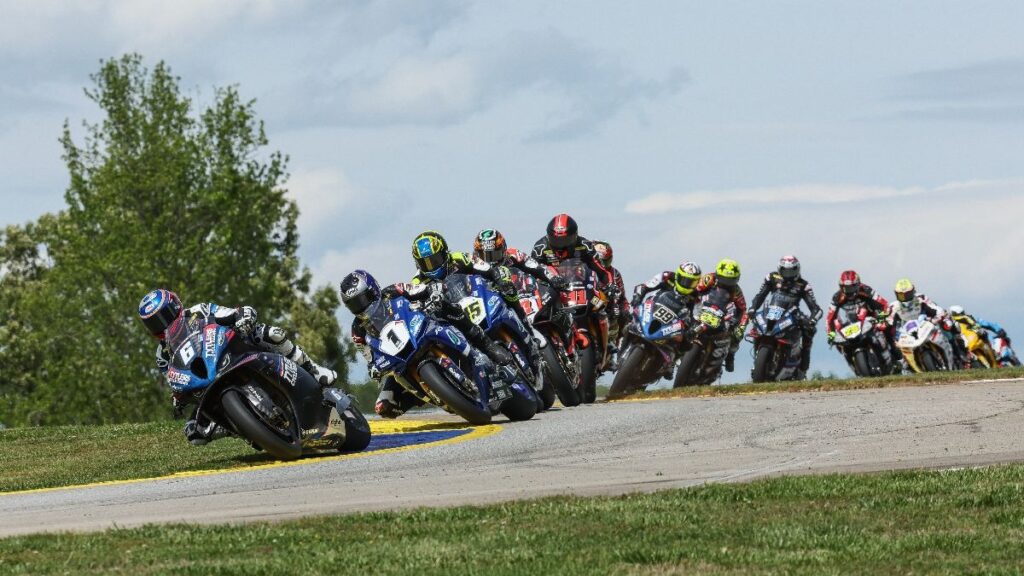 Gagne Wins MotoAmerica Medallia Superbike Thriller At Road Atlanta
Four riders battled to the bitter end on Sunday at Michelin Raceway Road Atlanta in what was the most exciting Medallia Superbike race in recent memory. And when the smoke cleared after 15 intense laps it was defending two-time Superbike Champion Jake Gagne crossing the finish line first on his Fresh N Lean Progressive Yamaha YZF-R1, just half a second ahead of yesterday's winner Cameron Beaubier on the Tytlers Cycle Racing BMW M 1000 RR.
Just prior to the finish, it was anybody's race when the four ran together down the backstraight and through the 180-mph kink when Beaubier's line pushed him wide and nearly forced Josh Herrin off the track. That left a giant hole between Beaubier and Herrin to go through, and Gagne went through it. Herrin recovered but couldn't get his Warhorse HSBK Racing Ducati stopped for the chicane and his off-track excursion allowed Westby Racing's Mathew Scholtz to pass him, putting Scholtz third and Herrin fourth at the finish line. Scholtz was .850 of a second behind Gagne with Herrin some two seconds behind after getting his Panigale V4 R back on track.
The win was Gagne's first of the season and the 30th MotoAmerica Superbike victory of his career and it put him into a tie with Beaubier at the top of the championship standings after one round and two races. The pair both have 45 points with the series heading to Barber Motorsports Park in Birmingham, Alabama, May 19-21.
Scholtz and the Westby Racing crew worked hard over the course of the weekend and the South African said they'd made huge progress over the course of the three days. He was rewarded with a podium finish on Sunday.
Herrin was also happy on Sunday afternoon, despite missing out on the podium. The two races were just his second and third outings on the new Ducati Panigale V4 R and he landed on the podium in Saturday's race.
Vision Wheel M4 ECSTAR Suzuki's Richie Escalante was fifth on Sunday, some three seconds ahead of Tytlers Cycle Racing's PJ Jacobsen and his teammate Corey Alexander.
The returning Toni Elias was eighth on the second Vision Wheel M4 ECSTAR Suzuki GSX-R1000 with Aftercare Scheibe Racing's Ashton Yates and Disrupt Racing's Hayden Gillim rounding out the top 10.
Notably missing from the results was Gagne's Fresh N Lean Progressive Yamaha teammate Cameron Petersen. The South African's difficult weekend ended early when his Yamaha YZF-R1 caught fire just a few laps into the race.
With Gagne and Beaubier tied atop the standings with 45 points, Herrin is third with 29 points, two ahead of Scholtz and eight ahead of Escalante.
Superbike Race 2
Jake Gagne (Yamaha)
Cameron Beaubier (BMW)
Mathew Scholtz (Yamaha)
Josh Herrin (Ducati)
Richie Escalante (Suzuki)
PJ Jacobsen (BMW)
Corey Alexander (BMW)
Toni Elias (Suzuki)
Ashton Yates (BMW)
Hayden Gillim (Suzuki)
Quotes…
Jake Gagne – Winner
"Got off to another good start, and me and Cam (Beaubier)… those first couple laps, five or six laps, Cam knew I wanted to push the pace. Any opportunity Cam could to shove it in me and he was great going into (turn) 10A. I was struggling big time down into there, so he passed me a bunch of times there. We were side by side through one, through 10A, 10B a couple times. So, it was fun battling. I haven't had that close of racing in a while. Those first couple laps, I kind of forgot about everybody else. I wasn't even looking at my pit board. I thought it was just kind of me and Cam. Then all of a sudden, midway through, Herrin comes by, and I still see plus zero. So, I didn't know if it was (Mathew) Scholtz behind us, but somebody was. So, I'm like, 'We've got a whole pack here.' The bike was awesome. My drives are awesome. I was still struggling on the brakes, but I think that was just because of me and after a couple laps, I was really pumped up. So, I kind of tried to just chill and relax and tried to just breathe and watch what those guys were doing a little differently and watch them battle each other. For the last lap, it was hard to really have a plan. Obviously, both of those bikes were really fast and really strong down into 10 through the kink. So, I was kind of just hoping for the best. I figured maybe they both would have a little braking battle in there and I could drive up under the bridge, but it was nuts. Like Cam said, with the wind, I didn't really know what happened. I just saw them kind of hit and then they parted. The seas parted and I just shot down the center of them, and from then on out, I led into 10A. Like I said, my bike was really good driving up over the hill and just protected the inside line. It was fun. That was really fun racing, close racing. I haven't had stuff like that in a lot of years, actually. Racing with guys like this that I've spent my whole career racing with all these guys, so it was fun. I'm sure we put on a good show. Again, I think luck was on my side a little bit with those guys coming together, for sure. But I'm glad everybody stayed on track because that's scary. 180 miles an hour something scary could happen there. So, I'm just glad we all brought it home. Good start to the year. We scored points in the first two races, so I can't complain."
Cameron Beaubier – Second
"At the beginning, I was doing everything I possibly could to hang onto Jake (Gagne). He just had some pace. Luckily, my bike was fast and every time I would get close to him, I just went for a pass. He made me look dumb. Rode around the outside of me a couple times. That didn't feel good, but I'm sure it looked good on TV. That was a wild race. Then I settled down, and tried to control the race because I knew my bike was fast and I was good on the brakes. I was struggling in some other spots, but I was doing the best I could with what we have right now. My bike was super-fast. I was trying to get to those last three laps and then put my head down and be good on the brakes and try to hold them off. Then (Josh) Herrin came by me and got in another pretty good battle with us. Man, that last lap was so hairy. I'm just super happy everyone's safe after that one. He ran me a little wide on the straightaway, and then I went into the fast right-hander pretty tight. I went to lean in, and he was on the outside of me. I just didn't turn. I pushed the front a little bit. It was terrifying. He was right on the outside of me, and I ran him wide. I was afraid I ran him off the track. You're doing 180 miles an hour through that corner. So, I glanced over my shoulder. Saw he was good, and then Jake and him blew by me on the brakes. There was nothing I could do to fight Jake going through the last section. Glad everyone is safe. Super stoked to get out of here with a one-two. Didn't really even know what to expect coming into this round. Just massive thank you to the Tytlers BMW guys. It was an interesting off-season riding at a different track than I've ever ridden at doing some testing and stuff, other than Buttonwillow. So, just looking forward to the rest of the season."
Mathew Scholtz – Third
"To be honest, the first couple laps I was just hanging on. We made quite a few changes from the first race. I was just still feeling out what the bike was kind of doing. I felt like the strong parts of the track for me, I was really, really quick, but the weaker parts I was losing a lot of time. So, I was just literally going backwards and forwards. I really didn't have a spot that I could kind of pass in, unless something happened, which it did, and I managed to capitalize on that. But otherwise, starting from where we were on Friday to where we ended up now, I think we made huge strides forward on the motorcycle. So, I just have to give a big shout out to the Westby Racing team. Of course, after the pre-season testing, we thought we were dialed in. Then we came here, and we were struggling. There were a few bits that we tried to change, and we didn't manage to figure that out until the second restart of this race now. So, at least now we're confident heading into the rest of the season. I'm just happy to be up here on the podium now. I know it was pretty awesome watching these guys battle it out. Hopefully from the next race on, I'll be part of that. Just thank you to the Westby Racing team. Hopefully we'll be challenging these boys next race."
---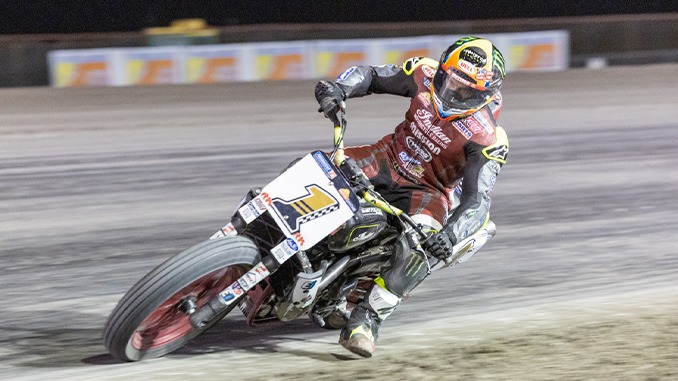 Mees Adds to Half-Mile History with Dallas Half-Mile Triumph
Reigning Grand National Champion Jared Mees (No. 1 Indian Motorcycle/Rogers Racing/SDI Racing FTR750) penned the latest chapter of a career of Half-Mile heroics with a victorious run in Saturday night's Mission Dallas Half-Mile presented by Roof Systems at Devil's Bowl Speedway in Mesquite, Texas.
The premier-class king was one-fourth of an early scrap for the lead in the Mission SuperTwins presented by S&S Cycle Main Event, along with a trio of Yamaha-mounted challengers in JD Beach (No. 95 Estenson Racing Yamaha MT-07 DT), Dallas Daniels (No. 32 Estenson Racing Yamaha MT-07 DT), and Dan Bromley (No. 62 Memphis Shades/Corbin/Vinson Construction Yamaha MT-07).
The opening stages of the contest proved to be a battle of extreme high and low lines. The high line showed itself to be the fast track up the order initially before giving way to a high-risk, high-reward tight-rope line at the bottom.
Just prior to half-distance, Mees and Daniels exploited that tricky low line to break free and settle into a rematch of their Senoia shootout. Meanwhile, Beach and Bromley fell into a five-rider fight for the final spot on the podium after being reeled in by the charging Brandon Robinson (No. 44 Mission Roof Systems Indian FTR750), Davis Fisher (No. 67 Rackley Racing/Bob Lanphere's BMC Racing Indian FTR750), and Briar Bauman (No. 3 Parts Plus/Jacob Companies KTM 890 Duke).
Daniels made a couple of determined attempts to zero in on Mees but never got quite close enough to make a serious attempt at an overtake. A small bobble on the part of Daniels with less than a minute remaining gave the champ a bit of breathing space. He was then ceded even more as his young rival called off the assault to accept second.
The triumph was the 34th Half-Mile win of Mees' historic career, placing him just one shy of the all-time record held by Scott Parker.
Afterward, Mees said, "Honestly, this was one of the hardest races to win. Going into Turn 1 and through Turn 2, you had to be so delicate going into the corners. You had to hit your brake mark right, get your throttle position right, and if you messed it up, it screwed your whole momentum up. It was definitely a hard race to win.
"Hats off to my entire team. We had a little mess up in Arizona, but we came back pretty strong all day long."
Adding to Mees' big evening was the misfortune of Beach, who crashed out of podium contention and dropped from second to fourth in the championship standings in the process.
Robinson – who wasn't even sure he'd be able to ride in Dallas after getting banged up in practice crashes at the previous two rounds – earned the final spot on the box. Bauman railed his way around the outside to climb to fourth in the end with Fisher behind in fifth.
Bromley ended his impressive run in sixth, while positions 7-10 were filled by Jarod Vanderkooi (No. 20 JMC Motorsports/Fairway Ford Indian FTR750), Bronson Bauman (No. 37 Fastrack Racing/2 Wheelz KTM 890 Duke), Ben Lowe (No. 25 Rackley Racing/Mission Foods Indian FTR750), and Kolby Carlile (No. 36 G&G Racing/Yamaha Racing Yamaha MT-07), in that order.
Daniels continues to hold down the championship lead with 113 points in his pocket following his 1-1-2-2-2 start. Mees now ranks second with 96 points, while two-time champ Bauman (78) also edged ahead of Beach (76) for third.
Parts Unlimited AFT Singles presented by KICKER
Trent Lowe (No. 48 American Honda/Mission Foods CRF450R) can finally call himself a Parts Unlimited AFT Singles presented by KICKER Main Event winner after repeatedly knocking on the door of that landmark achievement for years.
Lowe's maiden Progressive AFT victory headlined a race that represented a monumental reversal of fortune compared with the four that led into it.
After getting off to a slower-than-expected start to the season, the American Honda-backed Turner Racing team entered the day with just one podium between its talented trio of Lowe, Morgen Mischler (No. 13 American Honda/Mission Foods CRF450R), and Chase Saathoff (No. 88 American Honda/Mission Foods CRF450R).
They tripled that number in a single outing in Dallas after fighting back in furious fashion at Devil's Bowl Speedway. The three immediately went to the front and turned the first half of the race into a glorified poster shoot for the team, running side-by-side-by-side with the field struggling to stay in their wake.
Lowe eventually shook free while the pack closed in on second-placed Saathoff and third-placed Mischler, but they ultimately held strong to secure the podium lockout.
Lowe said, "I'm so happy, and I think the entire team is so happy – it's going to be a party in our pit area tonight. The whole Turner Racing team pulled it together. We were kind of on the struggle bus at the beginning of the season, but we definitely made a big improvement on this one with the three of us on the podium. I can't thank the team enough."
Meanwhile, the championship's usual suspects struggled mightily before finally coming good in the end. Defending champ Kody Kopp (No. 1 Red Bull KTM Factory Racing 450 SX-F) ran as low as eighth, while Dalton Gauthier (No. 79 D&D Racing/Certified KTM 450 SX-F) and Max Whale (No. 18 Red Bull KTM Factory Racing 450 SX-F) found themselves buried outside the top ten.
Kopp and Whale finally found their groove, weaving their way up through the field with Kopp earning fourth at the checkered flag, just 0.172 seconds short of the podium. Aussie Whale came home just behind his teammate, outdueling Trevor Brunner (No. 21 Estenson Racing Yamaha YZ450F) to complete the top five.
Meanwhile, Gauthier executed a charge of his own to finish in seventh, while Chad Cose (No. 49 1st Impressions Race Team/Husqvarna Racing FC450), Shayna Texter-Bauman (No. 52 Parts Plus/Jacob Companies KTM 450 SX-F) and Brunner's Estenson Racing Yamaha teammate Tom Drane (No. 59 Estenson Racing Yamaha YZ450F) rounded out the top ten.
As a result, Kopp continues to lead a tight title fight over Gauthier (102-98) with Whale third (86) and Brunner fourth (78). Not surprisingly, the Turner Racing entrants made a big push in the rankings, as they are now positioned fifth (Saathoff – 76), sixth (Lowe – 57), and seventh (Mischler – 56) and still very much in the hunt.
Next Up:
The 2023 Progressive American Flat Track season will tackle its fourth and final Short Track of the year with its first-ever trip to Ventura Raceway in Ventura, California, for the inaugural Ventura Short Track on Saturday, May 6. Visit https://www.tixr.com/promoters/americanflattrack to secure your tickets today.
For those that can't catch the live action from the circuit, FansChoice.tv is the live streaming home of Progressive AFT. Sign up now and catch every second of on-track action starting with Practice & Qualifying and ending with the Victory Podium at the end of the night at https://www.fanschoice.tv.
FOX Sports coverage of the Mission Dallas Half-Mile presented by Roof Systems, featuring in-depth features and thrilling onboard cameras, will premiere on FS1 on Sunday, April 30, at 11:00 a.m. ET (8:00 a.m. PT).
For more information on Progressive AFT visit https://www.americanflattrack.com.
---
Honda Sweeps 250SX East-West Showdown Podium at Muddy East Rutherford Supercross
When a rain-and-lightning storm hit the East Rutherford Supercross just before the 250SX East-West Showdown was scheduled to start, the event turned into something of an unknown, and while the eventual winner was something of a surprise, the bike was the same one that had topped 11 of the 13 races run until that point. Fire Power Honda's Max Anstie rode his CRF250R flawlessly in the sloppy conditions to earn his debut AMA Supercross victory, and he was followed across the finish line by fellow Red Riders Jett and Hunter Lawrence, the Team Honda HRC racers stretching their respective points leads in the West and East Regions. In the 450SX division, Chase Sexton tallied a fourth-place finish aboard his CRF450RWE, while Colt Nichols ended the long night in 16th place.
When the delayed 250SX main event finally ran, Anstie emerged from turn 1 with the lead, and while the Lawrence brothers were both in the top 10, they and the rest of the pack were immediately covered in muck. Jett and Hunter completed lap 1 fourth and fifth, respectively, and Jett was up to third by lap 3. He took over second just past the halfway point and closed on the leading Anstie, nearly passing him two turns before the finish, only to be taken down in the final turn by another rider attempting a last-second pass attempt. Jett remounted in time to retain second, and Hunter took advantage of the opportunity to finish third.
In the 450SX main event, Sexton got a good jump and took the holeshot but was quickly overtaken by Ken Roczen. Sexton was then knocked down by another rider, but he remounted and completed lap 1 in eighth place. He steadily advanced through the pack, climbing to fourth place by the checkered flag, while Nichols survived to take 16th.
NOTES
After a close call last week at Atlanta that saw him get out of shape in a set of rollers, Hunter Lawrence needed a midweek trip to the emergency room for an injured groin. The Australian also elected to stay off the bike during the week.
Race organizers used the East Rutherford round to raise awareness for the work done by St. Jude Children's Research Hospital. Team Honda HRC had special "Love Moto Stop Cancer" graphics prepared by Throttle Jockey, and Renthal prepared special gold-colored, Limited Edition-Hard Ano handlebar and sprockets.
Race day was also the birthday of American Honda Manager of Sports & Experiential Brandon Wilson, who was on hand for the event.
Belleville, New Jersey, dealership Motorcycle Mall had a dealer activation booth in the Team Honda HRC pits at the New Jersey Supercross, where they displayed Honda powersports products, engaged with fans and customers and held a giveaway.
The Lawrence brothers were the fastest riders in qualifying for their respective 250SX classes, with Jett topping the West region (and also taking the best 250SX time overall, by nearly seven-tenths of a second), while Hunter was best in the East region. In the premier-class ranks, Chase Sexton was third-best in qualifying, with Colt Nichols 10th.
The Lawrence brothers both finished second in their respective 250SX heat races. Jett started sixth in the West heat, slipped back to seventh and then mounted a charge that carried him all the way to the runner-up spot, just behind the winner. Hunter started third in the East heat, quickly moved up to second and ultimately finished just behind the winner. Fire Power Honda's Max Anstie was seventh, followed by Phoenix Racing Honda's Jace Owen and TiLube/Storm Lake Honda's Michael Hicks. Red Riders took the top three spots in the last-chance qualifier, with Phoenix's Coty Schock and Cullin Park sandwiching Red Research Group's Luke Neese.
Sexton was first out of turn 1 in the second 450SX heat race, and he pulled steadily ahead to win by over eight seconds. Meanwhile, Nichols had finished a solid fourth in the first premier-class heat, with Honda-mounted, Valley Ford Truck-sponsored Jeremy Hand eighth.
Anstie's win added him to the list of Red Riders to top the support class in East Rutherford–a list that includes Brian Swink, Justin Bogle, Malcolm Stewart and Chase Sexton. Anstie's victory also grew Honda's record as the manufacturer with most East Rutherford support-class wins, to five.
Both Lawrence brothers took part in the post-race press conference.
In the 250SX East title chase, Hunter Lawrence now has a lead of 49 points—nearly two races!—with a very realistic chance of clinching the crown next week in Nashville. Jett Lawrence has a 39-point lead in the 250SX West points battle and could clinch his championship in Denver the following week. In the premier division, Sexton still sits third, 21 points behind the leader and 10 behind second place.
Media contact:
Danny Gonzalez // Jonnum Media // danny@jonnummedia.com // +1 (805) 915-7889
450SX Results
Justin Barcia (Gas)
Eli Tomac (Yam)
Ken Roczen (Suz)
Chase Sexton (Hon)
Cooper Webb (KTM)
Shane McElrath (Suz)
Kevin Moranz (KTM)
Benny Bloss (Yam)
Justin Hill (KTM)
Dean Wilson (Hon)
—
Colt Nichols (Hon)
Jeremy Hand (Hon)
450SX Championship Points (after 14 of 17 rounds)
Eli Tomac: 315
Cooper Webb: 304
Chase Sexton: 294
Justin Barcia: 265
Ken Roczen: 259
Jason Anderson: 225
Aaron Plessinger: 213
Adam Cianciarulo: 155
Justin Hill: 154
Christian Craig: 150
—
Dean Wilson: 149
Colt Nichols: 120
250SX Results
Max Anstie (Hon)
Jett Lawrence (Hon)
Hunter Lawrence (Hon)
Max Vohland (KTM)
Enzo Lopes (Yam)
Haiden Deegan (Yam)
Carson Mumford (Kaw)
Cullin Park (Hon)
Jo Shimoda (Kaw)
Chris Blose (Kaw)
—
Luke Neese (Hon)
Coty Schock (Hon)
Michael Hicks (Hon)
Jace Owen (Hon)
250SX East Region Championship Points (after 8 of 10 rounds)
Hunter Lawrence: 198
Haiden Deegan: 149
Max Anstie: 148
Nate Thrasher: 120
Jordon Smith: 120
Chris Blose: 117
Jeremy Martin: 111
Cullin Park: 96
Tom Vialle: 95
Coty Schock: 83
—
Henry Miller: 72
Jace Owen: 67
Chance Hymas: 60
Jeremy Hand: 52
Michael Hicks: 51
Caden Braswell: 44
250SX West Region Championship Points (after 7 of 10 rounds)
Jett Lawrence: 176
RJ Hampshire: 137
Enzo Lopes: 118
Levi Kitchen: 112
Max Vohland: 104
Cameron Mcadoo: 101
Mitchell Oldenburg: 99
Pierce Brown: 98
Cole Thompson: 73
Derek Kelley: 70
—
Anthony Rodriguez: 40
---