One race remains on the Lucas Oil AMA Pro Motocross Championship 50th anniversary tour to decide the closest championship battle.
One race remains on the Lucas Oil AMA Pro Motocross Championship 50th anniversary tour to decide closest championship battle in sport's history
CORONA, CA – August 29, 2022 – (Motor Sports NewsWire) – With an overall victory at Indiana's Ironman MX National on Saturday, Monster Energy's Chase Sexton (Honda) stayed within one point, 496-495, of Monster Energy's Eli Tomac (Star Racing/Yamaha) in what is the closest premier class title point battle in the 50-year history of Lucas Oil AMA Pro Motocross Championship racing.
In the second and decisive moto, Sexton withstood a strong charge from Tomac late in the contest and, coupled with a slight Tomac error, won the moto by 11 seconds – and the overall – with a 2-1 two-moto finish (to Tomac's 1-2 finish).
Said Sexton on when Tomac closed in on him in the second and deciding moto: "I was like (sighs) 'This is going to be a hard race.' But I just kept my head down and never gave up. That's my mentality. It's going to be a fun weekend next weekend."
Next weekend is the 12th and final round of the 2022 Lucas Oil AMA Pro Motocross Championship, Fox Raceway 2, set for Sept. 2nd in Pala, Calif. Sexton won Fox Raceway 1 back in May, sweeping both motos.
Added Tomac, who maintains the red leader's plate heading into Pala: "Overall I'm happy with the day, happy to come out of here with the point lead still, and proud of my team. We're going on to Pala and it's an all-or-nothing situation now."
In 250 class racing at the Ironman, Monster Energy's Jo Shimoda (Pro Circuit/Kawasaki) teamed a second moto victory with a come-from-behind 5th place opening moto finish to place 2nd overall on the day (5-1). With the effort Shimoda increased his 2nd place overall series point lead to seven points over Hunter Lawrence (Honda), 437-430, and still has a mathematical chance of catching series point leader Jett Lawrence (Honda), who has 478 points heading into Pala.
Also noteworthy from the 250 class, the much-anticipated pro debut of Haiden Deegan (Monster Energy/Star Racing/Yamaha) ended with a couple crashes for the rookie and a rough 31st place finish (34-24). Deegan's Monster Energy-backed teammate, Nate Thrasher (Star Racing/Yamaha), picked the team up by scoring a season-best overall 5th place 250 class finish.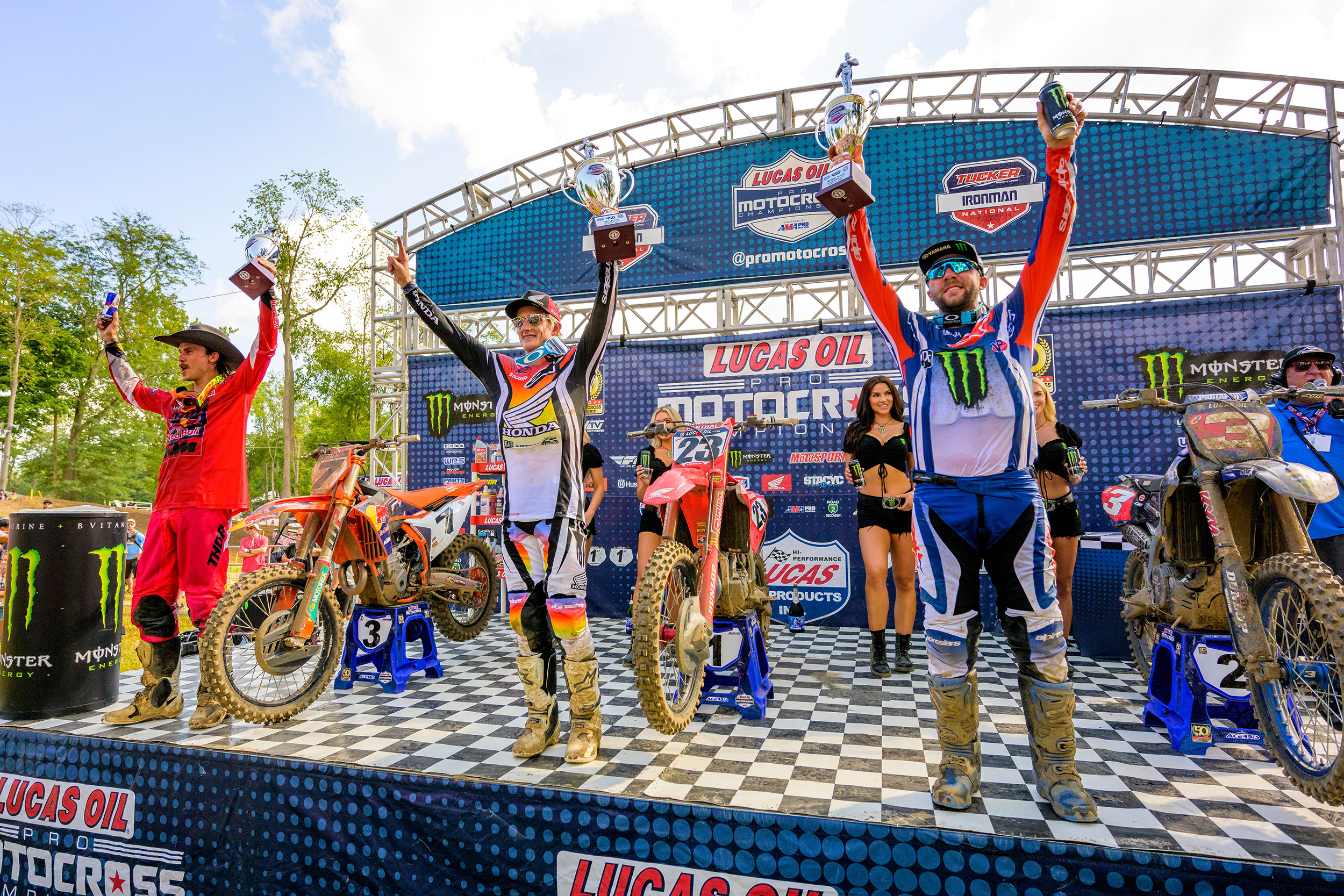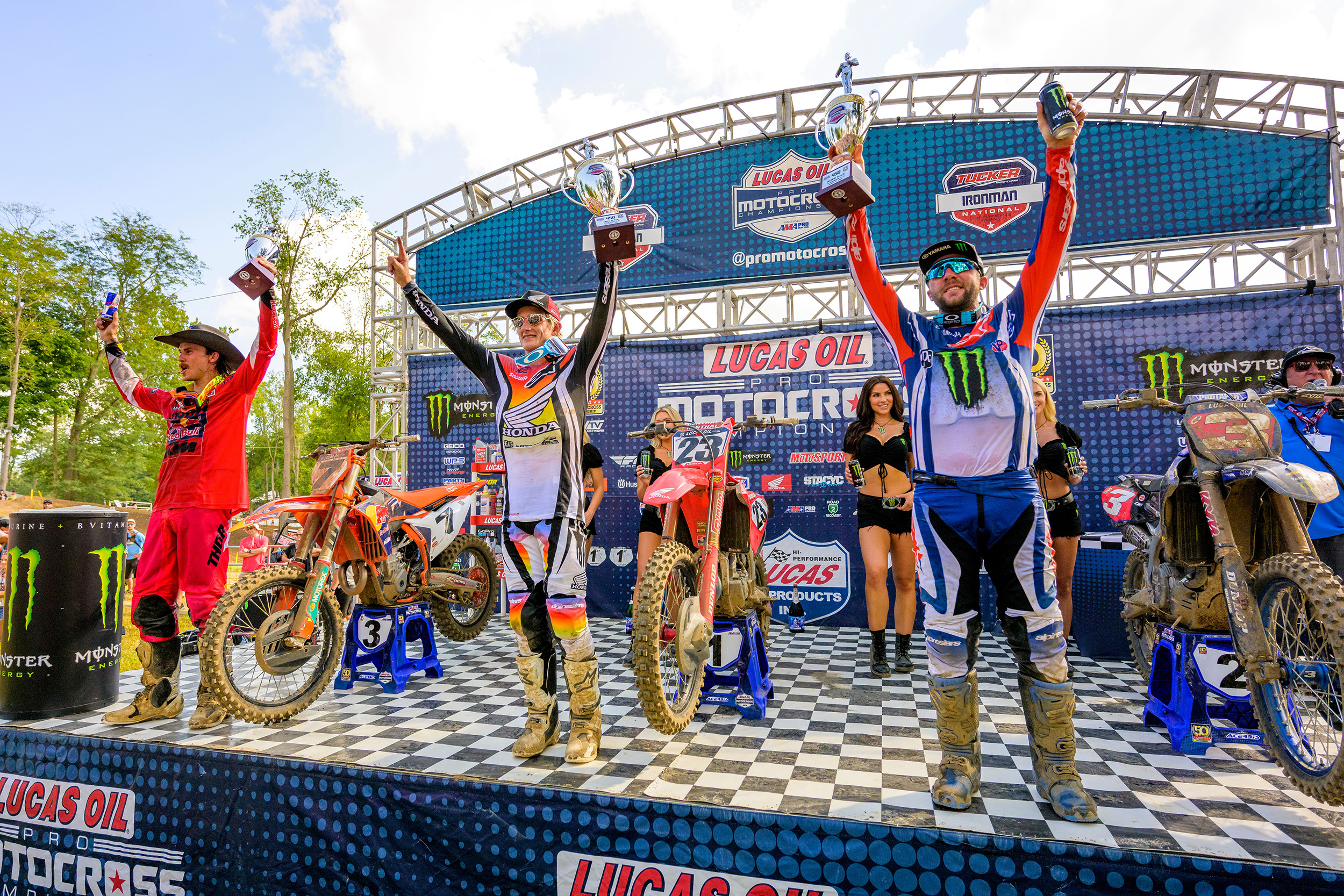 450 class podium Monster Energy's Chase Sexton and Eli Tomac
Here's a look at what went down at the Ironman MX National, beginning with the 450 class.
450 Moto 1 – Monster Energy's Eli Tomac
Trouble right out of the gate for last week's winner, Monster Energy's Jason Anderson (Kawasaki), as the No. 3 overall series point racer crashed in the first turn and re-entered the race in dead last. … Sexton would avoid the carnage, but didn't get a good start (12th) – and it ended up costing him. "Not the start Sexton wanted for his battle for the championship," said race announcer Broc Glover. … Tomac, however, would get out a few spots better (8th) and moved up to 6th at the end of Lap 1, with his Monster Energy-backed teammate Christian Craig (Star Racing/Yamaha) getting off the gate in 10th place, but quickly moving up to 2nd behind race leader Ken Roczen (Honda). … Tomac, as he has all season, put the hammer down early and passed several of the world's top motocross racers, including multi-time champion Ryan Dungey (KTM), for 3rd place. … Tomac would then get by Craig at the 24:50 mark, trailing race leader Roczen by 2.5 seconds. … Ripping up through the pack, Sexton, on a championship mission, put up a blistering 2:01.6 lap, catching – and passing – Dungey, and moved onto Craig for 3rd place. … At 21:01 Sexton got by Craig, and was just four seconds back of race leaders Roczen and Tomac, thanks in part to Roczen holding off a number of Tomac passing attempts as the race neared the midway point. … Getting by Roczen at the 17:53 mark, Tomac took the race lead. Sexton would then ease past his teammate (Roczen) for 2nd at the 15:41 mark. … After laying on the ground in the opening corner, Anderson had charged all the way up to 10th – and would still gain spots through the moto's finish. … Things got thrilling when, at the 13:07 mark Sexton, who was running laps two-tenths of a second faster than Tomac, cut Tomac's lead down to 1.8 seconds. Sexton would then make a mistake and, in an effort to correct his momentum, ended up cutting the track on a hilltop section. Sexton wouldn't gain any sort of decided advantage in the move and Tomac maintained his lead. … As race officials, team officials and the race announcers discussed if Sexton should (or shouldn't) be penalized for cutting the track, a Tomac mistake allowed Sexton to catch up – and pass Tomac on an inside berm blitz at the 5:11 mark. … Tomac would respond and, with one minute plus two laps to go, uncorked an unbelievable 2:01.3 race-best lap that Sexton was unable to answer, and responded with a sub-par 2:05 lap of his own. "You just don't do that (at this point in the race). I don't know where Eli found that speed," said Glover. … Final Moto 1 result: Tomac 1st, Sexton 2nd.
Said Tomac of his heroic late race lap: "I just had to dig down – and that was it."
Added Sexton: "It's an awesome battle between him (Tomac) and I. Hopefully we can do it again in the second moto and I can put it up on top this time."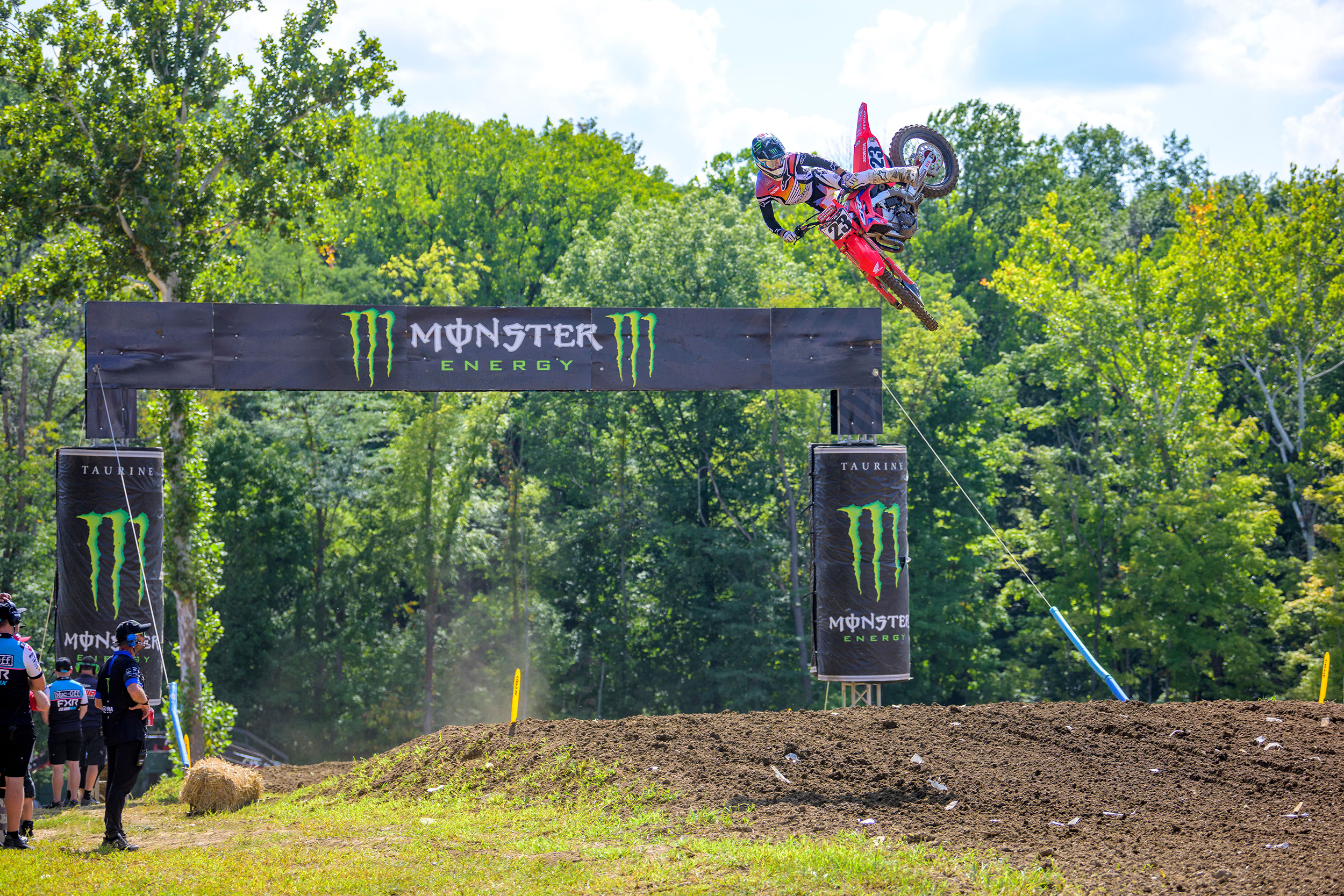 450 Moto 2 – Monster Energy's Chase Sexton
Bit of cat and mouse between Tomac and Sexton on their start gate lineup selections. In 450 Moto 1 Tomac had the second gate choice (behind Sexton, who was fast qualifier) and chose to line up right next to Sexton. In Moto 2, with the second gate choice, Sexton moved away from Tomac by a number of spots. The result? Sexton pulled the holeshot and lead early in Moto 2. … Sexton's lead would be brief as teammate Roczen grabbed the lead on Lap 1, with Tomac up to 5th place early. … Tomac then moved into 3rd place, past Aaron Plessinger (KTM) at the 28:10 mark, with Sexton passing Roczen for the lead less than a minute later (27:43). … Sexton opened up a 2.1 second lead on Roczen, with Tomac then getting past Roczen at the 21:58 mark – setting up what would be an epic battle for the lead – and overall Ironman MX National win. … With five seconds on Tomac, Sexton looked to be in control, only to see Tomac pull off another incredible 2:01.00 lap (the days fastest) and cut the lead down to four seconds. Sexton would have an answer this time, cracking off a 2:01.2 lap and putting his lead, depending on the area of the track, back up to near five seconds. … Nearing the moto's 10:00 mark Tomac was onto Sexton and, when the lead had been closed to just over a second, made a mistake (cross rutting), and loses two seconds back to Sexton. … During this time Anderson had come blazing back, all the way up to 4th, then blew by Plessinger for 3rd. A rare penalty (reportedly accelerating while off the track) was assessed to Anderson and, at race's end, he had to give 3rd place back to Plessinger. … Back up front Sexton would reel off a late, second moto 2:01 lap of his own, putting 6.1 seconds between him and 2nd place Tomac for the overall. … Joining Sexton, Tomac and Anderson in the top five would be Craig, who moved into 5th place with a minute plus two laps to go. … At the checkers it'd be Sexton, by 11 seconds over Tomac to give Sexton the overall victory, and leading Glover to comment "He (Sexton) keeps answering the bell like a prize fighter that won't give up. Beyond impressive." … Both Sexton and Tomac came away from the Ironman MX National with 47 championship points, with the title to be decided this coming Saturday (Sept. 3) at Fox Raceway in Pala, Calif.
Said Sexton: "I got out front, finally (on the start). Been wanting one of those for a while. From there I just started to sprint away. Got into a lapper and made a few mistakes – and Eli closed on me."
Added Tomac: "I made a big push right when he (Sexton) got stuck behind those lappers. Then I went a little too fast, a little too hard and got cross rutted. That was it."
250 Moto 1 – Monster Energy's Nate Thrasher
Thrasher opened the 250 racing with the holeshot and early lead, followed by a host of Monster Energy-backed racers in the top ten – Guillem Farres (Star Racing/Yamaha) in 4th, Seth Hammaker (Pro Circuit/Kawasaki) in 5th, Cameron McAdoo (Pro Circuit/Kawasaki) in 7th, Deegan in 9th and Justin Cooper (Star Racing/Yamaha) in 10th. … Suffering a poor start would be Shimoda, one which would ultimately play a factor in costing him the overall Ironman MX 250 win. … With pressure from Max Vohland (KTM), Thrasher managed to still hold the Moto 1 lead through the 23:06 mark. … Charging hard from back in the pack would be Shimoda, who passed McAdoo into 8th place, and was just three seconds back of Hunter Lawrence – with whom Shimoda was battling for 2nd place overall in the series points. … With Thrasher impressively continuing to lead past the race's halfway point, Cooper got past Vohland for 4th, and onto 3rd place RJ Hampshire (Husky). … At the 13:10 mark series point leader Jett Lawrence snatched the lead away from Thrasher, while at the same time Shimoda caught and passed Vohland for 6th. … Several minutes later Thrasher would give up 2nd place to Hampshire, with Shimoda, Hunter Lawrence and Cooper in a heated battle for the 4th, 5th and 6th spots. … Shimoda would get past Cooper for 5th, and was catching Hunter Lawrence for 4th when a costly mistake put Shimoda down into the dirt. He'd remount, but would have to settle on 5th in the moto. … Thrasher would drop one more spot, 3rd, to Hunter Lawrence near the moto's end.
250 Moto 2 – Monster Energy's Jo Shimoda
Incredible what a difference an incredible start makes as Shimoda took charge in Moto 2. The No. 2 overall 250 series point man grabbed the lead from holeshot-winner Cooper and charged out into the clean air, leading Thrasher (4th), Hammaker (5th), Monster Energy/Pro Circuit/Kawasaki's Ryder DiFrancesco (7th) and McAdoo (8th), while, unfortunately, Deegan would wind up on the ground again, this time at the start of the second moto. … With McAdoo quickly moving up to 5th, his Monster Energy/Pro Circuit/Kawasaki teammate Shimoda put a 3.7 second gap on 2nd place Cooper. … Jett Lawrence would make passes on Thrasher for 4th and Cooper for 3rd, with his site set on catching race leader Shimoda. … As the race wound down it'd be Shimoda up against both the Lawrences, Hunter in 2nd and Jett in 3rd, and Shimoda would be up for the task, holding off the two Honda racers to take the Moto 2 victory, and with it 2nd place overall on the day.
Said Shimoda: "Yeah, again, it's the starts. First moto – not good at all. Second moto I got up front. So I dunno. (I) just kept charging and took the win. So it was really nice."
Overall 2022 Lucas Oil AMA Pro Motocross Championship, presented by Monster Energy, Points (Round 11 of 12)
450 class
Eli Tomac
1st – Tomac
2nd – Sexton
3rd – Anderson
5th – Craig
9th – Savatgy
250 class
Jo Shimoda
2nd – Shimoda
4th – Cooper
7th – Thrasher
8th – Hammaker
10th – Kitchen
Up Next
Lucas Oil AMA Pro Motocross Championship, presented by Monster Energy, tees up the series' final round, the Sep. 23 Fox Raceway II MX National in Pala, Calif. For more information visit www.promotocross.com
About Monster Energy
Based in Corona, California, Monster Energy is the leading marketer of energy drinks and alternative beverages. Refusing to acknowledge the traditional, Monster Energy supports the scene and sport. Whether motocross, off-road, NASCAR, MMA, BMX, surf, snowboard, ski, skateboard, or the rock and roll lifestyle, Monster Energy is a brand that believes in authenticity and the core of what its sports, athletes and musicians represent. More than a drink, it's the way of life lived by athletes, sports, bands, believers and fans. See more about Monster Energy including all of its drinks at www.monsterenergy.com
Source: Monster Energy Comapny
####