Ken Roczen Storms to Top-Five at Anaheim Supercross Opener
Suzuki Racers Launch Into the 2023 Supercross Season
BREA, CA, January 10, 2023 – (Motor Sports NewsWire) –  Ken Roczen had the Angel Stadium of Anaheim crowd on its feet with a thrilling main event ride on his Progressive Insurance ECSTAR Suzuki RM-Z450. Roczen ran with the leaders all night and started the 17-round Monster Energy Supercross season with a solid top-five result.
BarX Suzuki's Derek Drake used a top-five heat race result to set up a strong main event performance on his Suzuki RM-Z250. Drake's new BarX Suzuki teammate Robbie Wageman was smooth and consistent on his Suzuki RM-Z250, and BarX's third rider, Ty Masterpool, holeshot and led the 250 class LCQ in his debut performance on his BarX Suzuki RM-Z250.
Dilan Schwartz did battle on his first ride with the Progressive Insurance ECSTAR Suzuki RM-Z250 squad, and Shane McElrath and Kyle Chisholm both showed promising speed as they debuted their Twisted Tea Suzuki presented by Progressive Insurance RM-Z450s
Ken Roczen (94) with a solid showing back aboard his RM-Z450 at Anaheim 1.
A strong second-place finish in his heat race set Ken Roczen and his Progressive Insurance ECSTAR Suzuki RM-Z450 up for a wild, dramatic, and impressive ride in the 450-class main event. Roczen had a great jump off the gate and exited the first corner in second. A thrilling opening-lap battle had him back and forth in a fight for the lead. Four minutes into the 20-minute plus two-lap race, Roczen once again put his RM-Z450 into the second-place position and set his sights once again on the lead.
The TV commentators outlined Roczen's return to Suzuki after an off-season motorcycle tryout with several brands, ultimately choosing the rock-solid RM-Z450; returning to the machine that he's seen the most professional success on, the Suzuki RM-Z450. Roczen was on either the attack or defense for every lap of an exciting and satisfying opening-round race. He crossed the checkers in the top five and is looking ahead to an outstanding season with Suzuki.
"Our weekend at Anaheim was a fun one, but a very gnarly one," said Ken Roczen right after the race. "We've had a lot of rain here lately on the west coast so the track for the first race was very unique, very difficult, and quite possibly one of the gnarliest supercross tracks that I've ever ridden. Overall, I'm stoked to get away with a top-five. We didn't blow anything out of the water, and we didn't do the absolute greatest, but at the same time we have something strong to build on and I'm super stoked about it. Most importantly, we didn't crash all day and we got out of here healthy; we saw a lot of real bad crashes and we were able to keep it rubber side down and that was very important to us to keep building."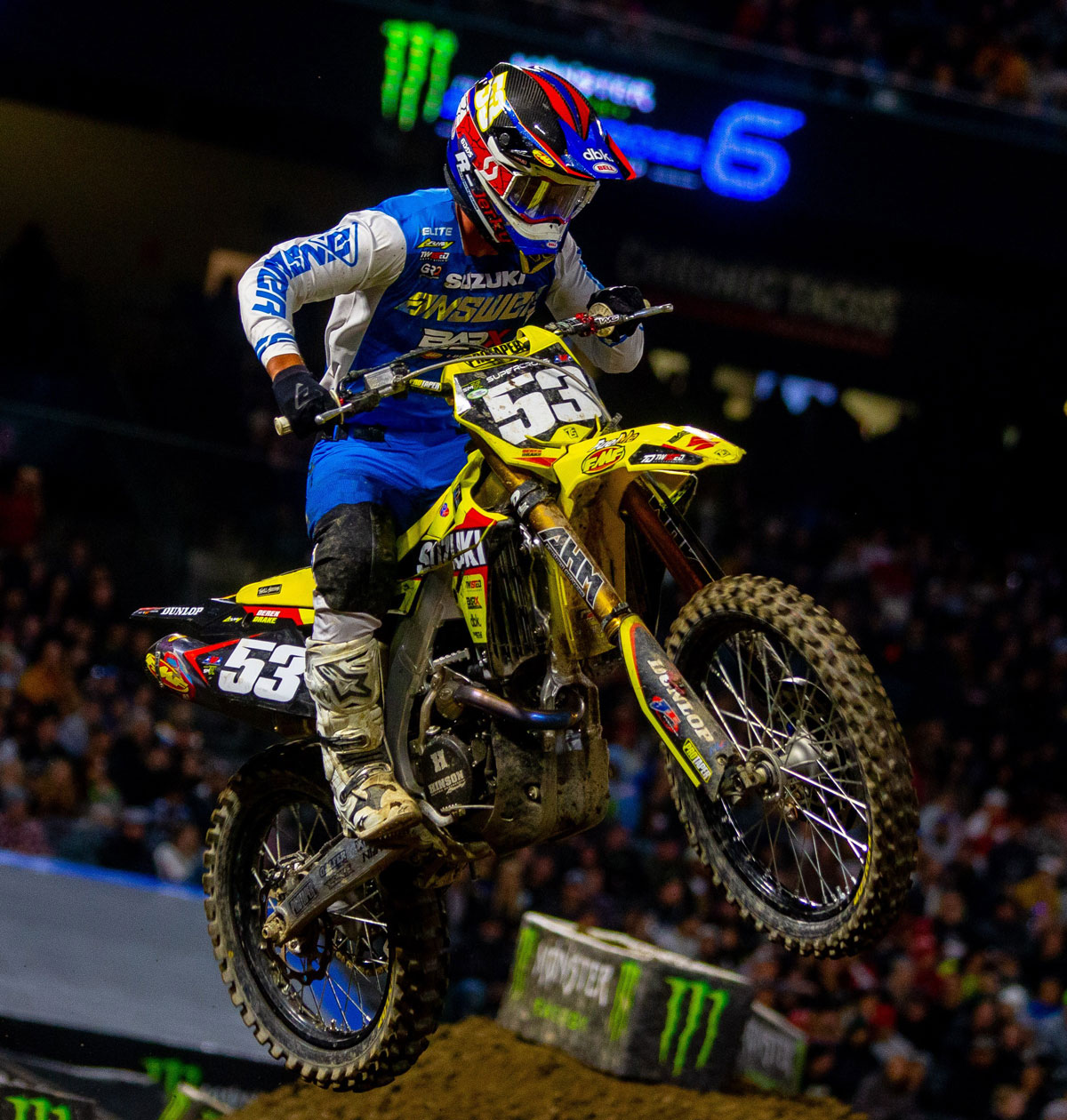 After a solid qualifying Derek Drake (53) goes straight into the
main event with a top-five finish in his heat race
Derek Drake led the BarX Suzuki team with a top-five start and finish in his heat race for a direct transfer to the main. Unfortunately, a challenging start in the main event put Drake at the tail end of the pack. He twisted the throttle on his Suzuki RM-Z250 and passed nine riders before the race's midpoint to salvage good points on the night.
"It was nice to get A1 behind us," Drake commented. "There is a lot of improvement to be made and I'm confident we can reach it. All in all, it was a good night, and we are ready to fight next weekend."
Robbie Wageman started the evening's racing with a quick climb into a qualifying position in his heat race. He and his BarX Suzuki RM-Z250 were on the move in the main event, fighting forward in the early laps. Wageman put in consistent laps to hold his position on a rutted track that reached up and bit several other riders throughout the night.
In his debut, Robbie Wageman (59) had a solid first Anaheim 1 aboard his RM-Z250.
"It was a rough start to the main event, but we made our way through the pack," said Wageman. "I'm happy to make it out of the first round safe. Onwards and upwards from here. My Suzuki was working great all day and I can't wait for next weekend!"
After showing strong speed for a direct transfer to the main, Schwartz's performance in the 250-class main event didn't demonstrate his 2023 speed. Schwartz navigated the technical track to put his Progressive Insurance ECSTAR Suzuki RM-Z250 into the points and hinted at strong supercross finishes ahead this season.
"The track shaped up pretty well for the night show," added Dilan Schwartz. "I felt comfortable but we're just dealing with some little things that held us back. But we're going to get it sorted and come out swinging next weekend."
Dilan Schwartz (85) showed good speed to get valuable points for the 250 West championship.
Ty Masterpool's first ride with the BarX Suzuki team had him conserving energy as he was still recovering from the flu. Masterpool finished his heat race one spot away from a direct transfer position. He bounced back with a holeshot in the 250 class LCQ. He kept his Suzuki RM-Z250 up front until the final laps when a simple mistake cost him not only the win, but a transfer into the main event.
"I am battling Type A flu so I just did the best I could with the cards I was dealt," Masterpool explained after the event.
With the flu, Ty Masterpool (81) nearly made the main event
through the LCQ, but a small mistake cost him. 
Shane McElrath's debut ride with the Twisted Tea Suzuki RM-Z450 saw him clawing forward in his heat race to miss a transfer position by only one spot. In the LCQ, McElrath got pinched off entering the first turn with thick mud at the edge of the track catching his wheel and ending his night with a crash.
"Honestly, for me, I just mentally didn't show up ready to race. It took me too long throughout the day to get to that point," McElrath reflected. "I'm a little banged up but it'll be all good. We'll just keep moving forward and I'm going to be fully prepared next weekend."
Shane McElrath (12) looking to bounce back in Oakland after a big get off in the LCQ.
Kyle Chisholm had his Twisted Tea Suzuki RM-Z450 in a qualifying position in heat one but couldn't hold the spot to the checkers. Chisholm opted out of the LCQ and will come back strong at round two.
"I've been under the weather for the last couple of weeks and then something hit me hard the last few days. I'm not able to keep any food or water in me." Chisholm then told of his night, "I tried to get out there in the heat race and see what I could do. This was my first race with the new team, and they did great and gave me a great bike. With how bad I'm feeling, I'm pretty happy with where we're at, and excited to I know we'll be able to keep improving."
After battling some sickness, Kyle Chisholm (11) tried his best to get
valuable data aboard the RM-Z450.
"I thought the night went well," said HEP Motorsports Team Manager Larry Brooks. "Roczen put in a good performance. I thought the bike worked well and was not too far off; testing at the track is never the same as at the races. All your weak points show at that first race of the year, but fifth place is a good starting point. As far as the other guys, Chiz was sick, so he was really just out of it all day. Shane crashed so we really didn't get a chance to see him race and as for Dilan, he's a young rider making rookie mistakes. He'll catch on, it's only a matter of time."
"We were on point as a team and our Suzuki's were ready to go for round one," said Buddy Antunez, BarX Suzuki Team Manager. "Derek did a great job of dialing in his Suzuki and himself all day. His riding ability did not match his result on the evening. Robbie was happy with his riding coming out of qualifying, but from the gate drop of heat two he never got going. He's capable of so much more, and Ty had a couple of crashes that held him back from making the main."
The Suzuki racers earned points not only for the 2023 Monster Energy Supercross season, but also for the inaugural SuperMotocross World Championship that ties together 31-rounds that incorporate the supercross and motocross seasons, two Playoff rounds, and an SMX World Championship event.
The racers and teams now travel north to RingCentral Coliseum in Oakland, California for round two of both the Supercross season and the SMX World Championship series. The weather shows rain, which offers different challenges and opportunities for all the riders. The Suzuki teams are ready for anything the supercross track will present.
For more team news, and the latest from the Supercross season and SMX World Championship series, please visit SuzukiCycles.com/Racing/Motocross and HEPMotorsports.com.
Photos by BrownDogWilson Photography
About Suzuki:
Suzuki Motor USA, LLC (SMO) distributes Motorcycles, ATVs, Scooters, Accessories, and ECSTAR Oils & Chemicals via an extensive dealer network throughout 49 states. Suzuki Motor Corporation (SMC), based in Hamamatsu, Japan, is a diversified worldwide manufacturer of Motorcycles, ATVs, Scooters, Automobiles, Outboard Motors, and related products. Founded in 1909 and incorporated in 1920, SMC has business relations with 201 countries/regions. For more information, visit www.suzuki.com.
Source: Suzuki Motor USA, LLC
####