Gear up for the 2024 Season
Rev your engines and brace yourselves, folks! The 2024 season is gearing up to be the ultimate showdown of top talent! Here is a breakdown of what has unfolded in the off-season.
Red Bull KTM: Chase Sexton, the Defender

The reigning 450SX Champion, Chase Sexton, is making a move that's sending shockwaves through the motocross motoverse. Sexton, now donning the Red Bull KTM Factory Racing colors, is set to defend his 2023 AMA Supercross Championship.
Sexton, with a bold career move, is eager to work with the KTM powerhouse. "I think we have a bright future together," he declared. The union of Sexton's talent and KTM's legacy is a concoction destined for glory.
Team Honda HRC: Hunter Lawrence's Grand Ascent to 450 Premier Class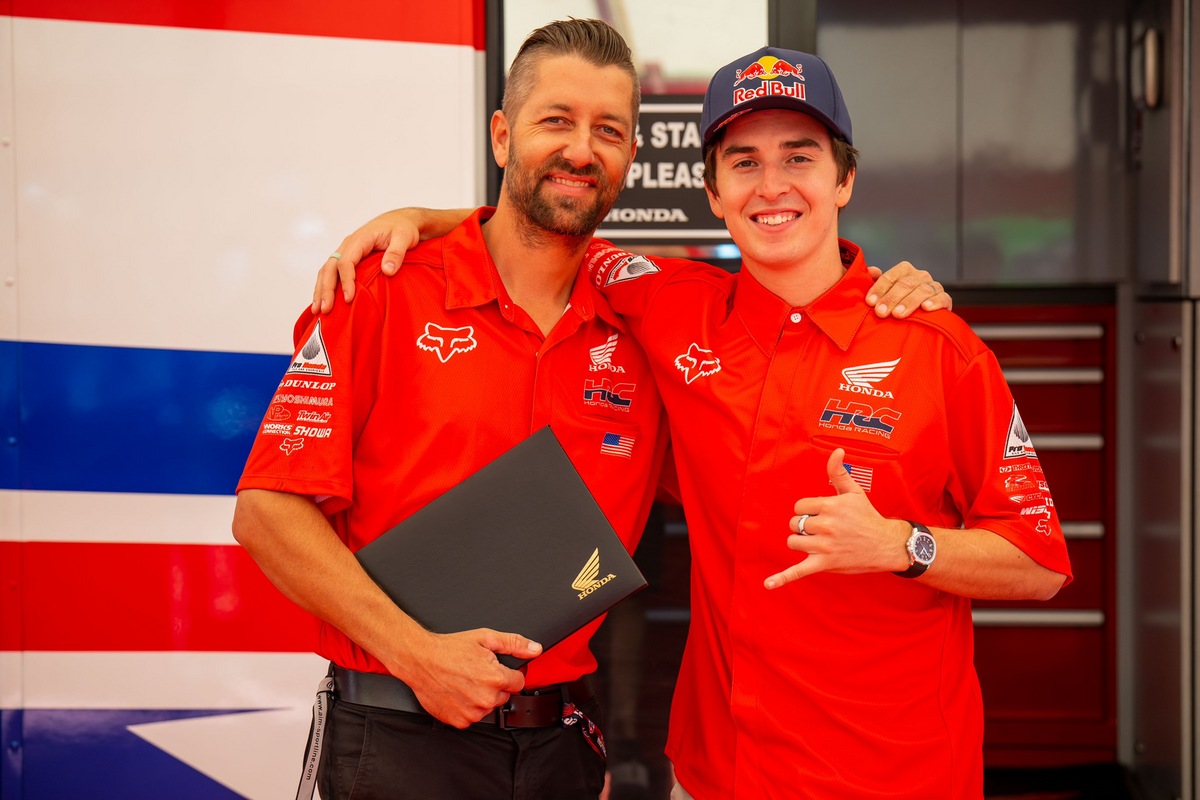 Hunter Lawrence, the Australian prodigy who conquered the 250 scene last season, is moving up to the big leagues for 2024. The 24-year-old speed demon is saddling up on the CRF450RWE, ready to battle it out in the AMA Supercross, Pro Motocross, and SuperMotocross series.
Lawrence, after clinching 250 titles last season, expressed his excitement about the promotion. "I'm proud of what I've accomplished in my 250 career, but it's exciting to move up to the premier class for 2024," he shared. With off-season testing promising, and the Lawrence brothers reunited on the big bikes, Team Honda HRC is revving up for a show-stopping season.
Honda's Rising Sun: Jo Shimoda's Journey Continues

Jo Shimoda, the Japanese sensation, is set to ride the CRF250R for Honda's factory squad in 2024 and '25. The 22-year-old, with a history of breaking barriers, aims to add another chapter to his impressive career. Shimoda's return to Honda is a reunion worth celebrating, and with teammates like Jett and Hunter Lawrence, this squad is a force to be reckoned with.
Shimoda, beaming with enthusiasm, said, "I'm super-stoked to join Honda's factory team." His eyes are set on an AMA championship, and the chemistry with his teammates could turn this season into a Japanese motocross revolution.
Rockstar Energy Husqvarna: Farres Joins the 250 Class

Rockstar Energy Husqvarna Factory Racing is turning up the heat with the addition of Guillem Farres to their 250 Class program. The 20-year-old Spaniard is ready to make waves in 250SX.
Farres, after showcasing his potential in the latter part of the 2022 season, is thrilled to be part of the Husqvarna family. Nathan Ramsey, Team Manager, sees Farres as a rising star, and with the Baker's Factory program in the mix, the Spaniard is geared up for a spectacular debut in 2024.
Rockstar Energy Husqvarna: Casey Cochran's Pro Debut

Rockstar Energy Husqvarna Factory Racing is also adding 17-year-old Casey Cochran in the 2024 season. After a stellar amateur career, Cochran is ready to step into the spotlight, making his mark in the SuperMotocross World Championship on the FC 250.
Nathan Ramsey, Team Manager, expressed his excitement, saying, "He's a very hard worker and is full of potential for a great future." The anticipation for Cochran's pro debut is palpable, and the Rockstar Energy Husqvarna squad is ready to nurture this budding talent.
Troy Lee Designs/Red Bull/GASGAS: Ryder DiFrancesco's Rookie Quest

Troy Lee Designs/Red Bull/GASGAS Factory Racing has a new prodigy in town, and his name is Ryder DiFrancesco. The 18-year-old is set to embark on his rookie 250SX campaign, bringing his explosive talent to the tracks.
Max Lee, Team Manager, is thrilled about DiFrancesco joining the team, stating, "He has a lot of talent and a good work ethic." With DiFrancesco transitioning from a decorated amateur career to the professional ranks, the 2024 season promises to be a captivating chapter in his motocross journey.
Get ready, the 2024 Supercross season is on the horizon, and with these riders and teams, we're in for a wild ride. Stay tuned for the twists, turns, and high-flying action that will define this thrilling season. The countdown to Anaheim 1 has never felt this electrifying! Secure your A1 tickets now.